French language courses plus activities
Our summer language and activity courses for teenagers and young people offer the best of all worlds. Great locations, wonderful environments, international mix of students as well as great teachers, fun activities and excursions and amazing memories.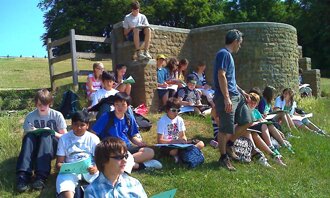 This excellent intensive French language and activity course for teenagers in Antibes on the Cote d' Azur has twenty six language lessons a week as well as a full afternoon and evening programme It has proved to be very popular with those wishing to get even more out their French skills but equally keen to have a great time.
Minimum age

:

13

Entry level required

:

A1

Length of study

:

From 1 week

Lessons per week

:

26
An educational and fun French language course for juniors, with afternoon and evening activities all included, in Antibes, on the Cote d Azur, France. Antibes/Juan-les-Pins is our most popular destination with young people. This twenty lesson a week course with fun and educational afternoon and evening activities has proved extremely popular.
Minimum age

:

8

Entry level required

:

A1

Length of study

:

From 1 week

Lessons per week

:

20
This excellent French language course for teenagers takes place in a wonderful location, in the hills above Juans les Pins, in the South of France. The all inclusive programme offers students the opportunity to learn French in a fun and innovative way in one of the best locations on the Cote d' Azur. The school is about half a kilometre from the beaches and lively areas of Juan-les-Pins.
Minimum age

:

13

Entry level required

:

A1

Length of study

:

From 1 week

Lessons per week

:

20
Accredited by these organisations
:
ICEF
,
English UK