Business English Communication Skills
The Business English Communication skills course, offered by our partner school in Boston MA, is designed for the businessman who wants to rapidly improve his or her business communication skills. The programme is made up of General English lessons with Business electives, designed to deliver you into the workplace with a fully functional command of the English language.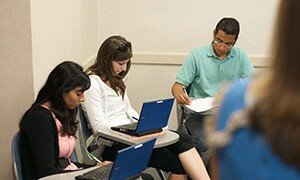 Our price promise
If you find this course cheaper elsewhere, we will match the price and give you a £50 voucher when you book*.
*Applies only to like-for-like dates at the same school on the same course for the same duration.
Study
Minimum entry requirements
Course format
Length of study

:

From 2 weeks

Lessons per week

:

28

Maximum class size

:

15

Typical student age

:

18- 57

Typical student mix

:

18% Asian, 32% Latin American, 12% Japanese, 10% European, 20% Middle Eastern, 8% Far Eastern
Dates and fees
Course starts each

Mon, excluding weeks that include Christmas, New Year

Tuition fees

:

From

870.00

USD

Tuition length options

2 weeks

:

870.00

USD

3 weeks

:

1305.00

USD

4 weeks

:

1740.00

USD

5 weeks

:

2175.00

USD

6 weeks

:

2610.00

USD

7 weeks

:

2905.00

USD

8 weeks

:

3320.00

USD

9 weeks

:

3735.00

USD

10 weeks

:

4150.00

USD

11 weeks

:

4565.00

USD

12 weeks

:

4800.00

USD

Compulsory fees

Our admin fee

:

49

USD

Enrolment fee

:

150.00

USD

Other expenses

:
Why choose this Business Communication course?
Feel confident giving presentations and taking part in meetings with clients, colleagues and suppliers.
Feel comfortable making small talk, entertaining, & socialising in a business context
Broaden your business related vocabulary
Improve cross-cultural understanding in a business context
Improve business writing skills especially digital: emails, texts & tweets
Leave with your own e-portfolio - refer back to examples of work created and demonstrate your language ability to employers.
Course Overview
This excellent course focuses on communication - in writing, reading and spoken language – and it aims to ensure that you can face any situation in the English-speaking Business environment. All students follow an Intensive 28 course: 20x 50-minute classes, working on General English development at your level (you'll join the General Certificate of English classes). These are complemented by 8x 50-minute classes which target specific Business areas.
If you are job-seeking, this Business English course helps to position you as a highly desirable prospect. If you are already established in your career, you will find that it gives you an invaluable boost in your day-to-day Business dealings, making global communication easier and opening doors to new career possibilities.
Teaching method
All lessons are taught the Embassy way, with full in-class participation, group work, pair work, and class discussions. Bear in mind that exam classes also necessitate a certain amount of solo work and mock examinations. Students are expected to be dedicated and to work to the best of their abilities.
You can be confident that Embassy's professional, qualified teachers will respond to the needs of the class, using an assortment of learning materials and techniques. You'll be expected to complete daily homework assignments and sample tests.
Technology in the classroom
You will have access to the modern technologies on offer to help your language learning experience. These include interactive whiteboards and captivating online learning environments. It is all part of bringing your language learning experience alive and ensures that your learning experience will be a positive one. All text books and materials are provided on this course. You may wish to purchase additional supporting books, although they are not essential.
Not sure what your English level is? Get an idea by taking this online test.
Book a place
or
Ask a question
Accredited by these organisations
:
ICEF
,
English UK