Cambridge Exam Courses for English,(FCE, CAE, CPE) Intensive
Depending on your level of English you can choose which of the three Cambridge exams, (First Certificate of English, Cambridge Advanced English or Certificate of Proficiency in English), to study for. The school will help you decide which course is best for you based upon your needs and the test you take on your first day. This is an excellent intensive Cambridge English exam course.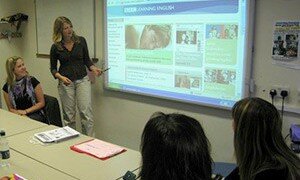 Our price promise
If you find this course cheaper elsewhere, we will match the price and give you a £50 voucher when you book*.
*Applies only to like-for-like dates at the same school on the same course for the same duration.
Study
Minimum entry requirements
Course format
Length of study

:

From 10 weeks

Lessons per week

:

24

Maximum class size

:

14

Typical student age

:

18-25

Typical student mix

:

15% Turkish, 5% African, 35% Far Eastern, 5% Middle Eastern, 40% European
Dates and fees
Start dates

:

5 Jan 2015
23 Mar 2015
29 Jun 2015
14 Sep 2015

Tuition fees

:

From

2670.00

GBP

Tuition length options

10 weeks

:

2670.00

GBP

12 weeks

:

3204.00

GBP

Compulsory fees

Our admin fee

:

49

GBP

Enrolment fee

:

90.00

GBP

CAS fee

:

15.00

GBP

Other expenses

:
Introduction to Examination Courses
On the first day, you are given a comprehensive test to identify your exact level. You are then placed in a class of students at your level, all preparing for the same examination. For some Cambridge exams, there may be several "micro-levels", each at a slightly different level from the others, and ranging from 'C' to 'A' grade expectations.
Your course will build your confidence and accuracy in all forms of the language. You will receive extensive training in examination techniques, and sit one mock examination on most courses on the core programme. Your speaking abilities will be personally assessed by senior members of the teaching staff on most courses.
Our partner school, BEET, has Cambridge examiners on the teaching staff. You can, therefore, be assured that we have precise knowledge of the requirements and thinking of the University's examining board. The examiners, however, do not know what will be in your particular examination!
Our partner school BEET is a major centre of Cambridge Examination Courses, producing excellent results.
Cambridge exams - Explained
First Certificate of English
This is a widely accepted English qualification, and usually the most popular examination course offered by BEET.
Certificate in Advanced English
An extremely popular examination course. The Advanced English is a high level final qualification in English, most suited to those needing a good command of English at work or socially.
Certificate of Proficiency in English
This is the most advanced English language examination for which we prepare students. It can be used for university entrance, or for joining such professions as teaching, diplomacy or translating. It is also of value to those entering such careers as law and media.
Course overview
The core English course is based on the four language skills: Speaking, Listening, Reading and Writing.
Emphasis is placed on encouraging your fluency and confidence in the language. Your teachers will employ the most efficient techniques to ensure you develop accurate grammar, vocabulary and pronunciation.
You will be in a multi-national class, placed with other students of the same level with the same high motivation. The aim is to ensure you learn the maximum possible.
Some of your lessons will be in the computer room, where you can use computers with interactive software and broadband connection.
All courses include unlimited access to 'beet on-line', course books, student file and paper, map of Bournemouth, Student Guide, student identity card and a full social programme including 2 evening lectures per week.
Teaching Materials
Our partner school uses the latest course books and materials. The school Principal has written many leading titles and even received an award from the Duke of Edinburgh for one of his books. This commitment to excellence in materials continues to this day - we use the latest course books and provide them free as part of your main course.
A Varied Programme
Normally, you have two to four teachers each day, depending on which course you have chosen. This gives you the chance to experience a variety of approaches to the language. This variation is further expanded through use of audio, audiovisual equipment and computers.
You will learn real English, as it is used in the world outside the classroom. The aim is to bring you as near to native competence as possible.
There are regular tests to monitor your progress in grammar, vocabulary and the four main skills of speaking, listening, reading and writing.
Options programme
English for Travel and Tourism
This course is available during July and August, however only available subject to demand at other times of the year. It is suitable for Intermediate to Advanced level students.
On this course you will learn practical communication skills needed in the world of Tourism, Hotels and Hospitality, and study trends in tourism. There is a regular 'Country Focus,' where students make a short presentation on an aspect of their country's culture or tourist attractions.
Pre-Masters
This course is available all year for Upper-Intermediate to Advanced level students. The course divides into two main areas:
Academic Writing, which focuses on the vocabulary, grammar and writing skills needed to express ideas clearly in an appropriate academic style.
Study Skills, which looks at making presentations, taking notes, seminar skills, research, analytical thinking and writing assignments and dissertations.
Options Programme
Language and linguistics
Speaking & Pronunciation Practice
This course is available all year from elementary to advanced levels and provides additional speaking practice on a wide range of themes. The most popular component of this programme is concentrated work on the improvement and refinement of students' pronunciation. There is additionally a range of speaking activities designed to encourage fluency, naturalness and appropriateness. Discussions and simulations play a substantial role.
Reading, Writing & Listening Skills
This programme is available all year from elementary to advanced level students. It is based on weekly thematic modules, in which reading, writing and listening skills are given equal emphasis, along with their important sub-skills. At all levels every effort is made to provide stimulating subject matter and real-world tasks. There is a cultural slant towards British life and institutions.
Exams
Cambridge FCE, CAE, CPE and PET*
FCE and CAE courses are available most of the year, January to December; CPE courses are available March to June and September to December.
These option lessons provide extra examination preparation for the Cambridge First Certificate, Advanced English or Proficiency in English. For full-time courses leading to these examinations please see our full list of Cambridge Examination courses.
* The PET is placed about two-thirds of the way between beginner and Cambridge First Certificate level. There are three papers: Reading and Writing, Listening and Speaking. The preparation course gives practice in all of them, including one full mock examination.
IELTS Preparation
This course is available all year for Lower Intermediate to Advanced level students and provides thorough preparation for all parts of the IELTS exam.
IELTS is now the standard requirement for entry into a British university. The result of the examination is determined by a points scheme. You should confirm with your chosen university how many points they require. If you wish the school will consult the university for you.
Business
Business English Certificates
This course is available from March to May and October to December for the following levels: Lower-Intermediate (BEC Preliminary), Upper Intermediate (BEC Vantage) and Advanced (BEC Higher).
These examinations concentrate on practical business English. Subjects include marketing, production, financial services and general office work. The English studied covers a wide range of business requirements, and is intended for people who have some experience of business or are interested in entering this field. Candidates will be equipped with all the techniques required by the examinations and will be set one full mock exam, with feedback.
English for Business
This course is available all year for Lower Intermediate to Advanced level students.This is an intensive programme that covers practical business communication skills as well as exploring key topic in the business world.
Students will learn how to write letters, emails and memos, as well as make presentations, take part in discussions and make business phone calls. The course uses published Business English materials in addition to items from the Internet, television, radio and newspapers. Topics covered range from International marketing to raising finance to crisis management.
Special Interests
English for Media and Culture
This course is always available during July and August. At other times of the year it is available subject to demand. English for media and culture is suitable for good intermediate to advanced level students.
This course combines English for the media with a wide-ranging look at life and culture in Britain. You will learn about British media and also explore media around the world. We will look at television, radio, advertising, films, publishing (newspapers, magazines and books) and
Internet-based media. We will also explore British culture through the eyes of the media, in order for you to better understand the institutions, attitudes and lifestyles of its people. The course will develop reading, writing, listening and speaking skills and involve project work and student presentations.
Book a place
or
Ask a question
Accredited by these organisations
:
ICEF
,
English UK