Cambridge First Certificate of English
This Cambridge First Certificate of English course is for those who wish to make extremely fast progress in a short space of time. It has 28x50 minute lessons of pure Cambridge preparation per week, following a dedicated textbook, morning and afternoon. Test your level.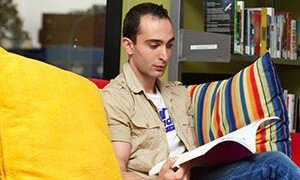 Our price promise
If you find this course cheaper elsewhere, we will match the price and give you a £50 voucher when you book*.
*Applies only to like-for-like dates at the same school on the same course for the same duration.
Study
Minimum entry requirements
Course format
Length of study

:

10 weeks

Lessons per week

:

28

Maximum class size

:

15

Typical student age

:

17- 35

Typical student mix

:

30% Asian, 20% Far Eastern, 12% Japanese, 24% European, 14% Middle Eastern
Dates and fees
Start dates

:

31 Mar 2014
16 Jun 2014
22 Sep 2014

Tuition fees

:

4500.00

NZD

Compulsory fees

Our admin fee

:

49

NZD

Enrolment fee

:

150.00

NZD

Other expenses

:
Course Overview
The Cambridge examinations are recognised worldwide as proof of your English language ability. They can be used in applications for jobs, and, in some cases, for universities. But they are also a satisfying measure of personal achievement.
Since they are offered at a variety of levels, Cambridge exams are a good choice if you wish to demonstrate your progress, or gain a qualification in a short space of time. You will join a dedicated class of students all studying towards the same goal, and it's impressive what results you will achieve. Embassy teachers are experienced in giving you the skills you need to enter the exam room with confidence - and exit with great results and still be smiling at the end of it all!!
Course structure
This course is based on twenty exam preparation lessons a week and eight Elective lessons. You can choose from the following Electives:
Grammar

Vocabulary
Conversation skills
Presentation skills
Business communication
You choose up to a maximum of two electives and every four weeks you have the option of choosing to focus on different Electives.
If you wish you can choose to opt for twenty Elective lessons a week and eight exam preparation lessons. Please contact us for more details.
Teaching method
All lessons are taught the Embassy way, with full in-class participation, group work, pair work, and class discussions. Bear in mind that exam classes also necessitate a certain amount of solo work and mock examinations. Students are expected to be dedicated and to work to the best of their abilities.
You can be confident that Embassy's professional, qualified teachers will respond to the needs of the class, using an assortment of learning materials and techniques. You'll be expected to complete daily homework assignments and sample tests.
Technology in the classroom
You will have access to the modern technologies on offer to help your language learning experience. These include interactive whiteboards and captivating online learning environments. It is all part of bringing your language learning experience alive and ensures that your learning experience will be a positive one. All text books and materials are provided on this course. You may wish to purchase additional supporting books, although they are not essential.
Book a place
or
Ask a question
Accredited by these organisations
:
ICEF
,
English UK