CELTA in Edinburgh
CELTA gives you the 'go to' qualification for entry into the field of EFL teaching to adults. It is your global EFL teaching passport. Validated by the University of Cambridge this is an outstandingly good course at one of Edinburgh's most established and respected schools.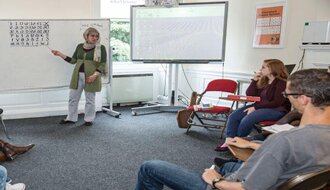 Our price promise
If you find this course cheaper elsewhere, we will match the price and give you a £50 voucher when you book*.
*Applies only to like-for-like dates at the same school on the same course for the same duration.
Study
Minimum entry requirements
Course format
Length of study

:

4 weeks

Hours per week

:

30

Maximum class size

:

12

Typical student age

:

19-40

Typical student mix

:

57% European, 21% Asian, 12% Middle Eastern, 10% Mediterranean
Dates and fees
Start dates

:

28 May 2018
9 Jul 2018
8 Oct 2018
19 Nov 2018

Tuition fees

:

1085.00

GBP

Compulsory fees

Our admin fee

:

49

GBP

Textbooks

:

50.00

GBP

Enrolment fee

:

50.00

GBP

Other expenses

:
Course overview
The full time course is a minimum of 120 contact hours and runs over four weeks. You attend the school from 09.00 to 17.00 and then spend most evenings preparing lessons for the following day. Our part time course runs over 12 weeks and covers a minimum of 120 contact hours. The contact times are Saturday mornings from 10.00 to 13.15 and Monday and Wednesday evenings 18.00 to 21.00.
Course detail
Input sessions are devoted to methodology, language awareness, phonology and lesson preparation. It is a Cambridge requirement that you observe 6 hours of classes with qualified teachers (3 are of live teaching and 3 can be of videos) and have a minimum of 6 hours observed teaching practice. On our full time courses here, teaching practice normally takes place in the afternoons and by the end of the course you will have taught two or three levels of classes.
Do I need to have previous teaching experience?
No. The CELTA course is designed as a pre-service course for people with no previous teaching experience. It is also a popular course with those who have a PGCE and experience in the state sector but who are looking for a change of direction.
Book a place
or
Ask a question
Accredited by these organisations
:
ICEF
,
English UK