English for Beginners
The beginners English course is an excellent programme that uses proven teaching techniques to help you begin your English language learning journey. Students benefit from extensive use of inter-active whiteboards, group discussions and conversation.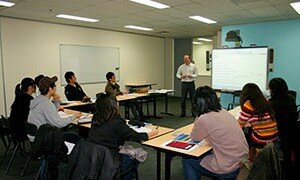 Our price promise
If you find this course cheaper elsewhere, we will match the price and give you a £50 voucher when you book*.
*Applies only to like-for-like dates at the same school on the same course for the same duration.
Study
Minimum entry requirements
Course format
Length of study

:

From 2 weeks

Lessons per week

:

28

Maximum class size

:

15

Typical student age

:

17-40

Typical student mix

:

30% Asian, 20% Far Eastern, 12% Japanese, 24% European, 14% Middle Eastern
Dates and fees
Course starts each

Mon, excluding weeks that include Christmas, New Year

Tuition fees

:

From

904.00

AUD

Tuition length options

2 weeks

:

904.00

AUD

3 weeks

:

1356.00

AUD

4 weeks

:

1808.00

AUD

5 weeks

:

2260.00

AUD

6 weeks

:

2712.00

AUD

Compulsory fees

Our admin fee

:

49

AUD

Enrolment fee

:

150.00

AUD

Other expenses

:
Introduction
As part of the intensive English programme; follow an easy-to-understand course and quickly progress from having little or no English to speaking elementary or pre-Intermediate English in just a few weeks.
Why choose a Beginners English Course?
An easy to follow, structured course

Learn essential speaking & listening and reading & writing skills
Get a good understanding of basic grammar and vocabulary
Start using practical English examples from day one.
Progress with regular tests, targets and personal learning plans
For students with very little, or no English
Make rapid progress with highly-structured, total immersion lessons.
Latest language learning techniques
Course Overview
The beginner level course consists of highly-structured lessons. A variety of methods are used to boost your confidence, increase your vocabulary, and teach you the rudiments of the language.
Lessons take place in a supportive atmosphere of total immersion - no translation or use of the mother tongue!.
We promise that you will be understanding and speaking English in just a few weeks.You will be learning along with students of other nationalities, so all communication with your teacher and your classmates will be in English.
Course structure
28 General English lessons focusing on speaking, understanding and reading
Some of the lessons of general English will be in different formats including :
Guided lessons with the "Study Smart" learning portal
Lectures
Project work
Teaching method
The school's experienced teachers use many different techniques to ensure that even those who arrive with no English at all will be able to follow the lesson and participate in the class.
In the course of a single lesson, you'll enjoy a range of activities, including full in-class participation, group work, pair work, class discussions and fun role-plays. These make learning enjoyable and improve both your confidence and fluency.
At the same time, there are strong underlying principles which ensure that you'll be consolidating your understanding of vocabulary and grammar. The teachers are there for you and they will respond to the needs of the class, using an assortment of materials. You will be expected to complete regular homework assignments.
Technology in the classroom
You will have access to the modern technologies on offerto help your language learning experience. These includeinteractive whiteboards and captivating online learning environments.
It is all part of bringing your language learning experience alive and ensures that your learning experience will be a positive one. All text books and materials are provided on this course. You may wish to purchase additional supporting books, although they are not essential.
Course Outcomes
Your teacher will assess your progress regularly, and provide you with regular reports on your development. When you both decide you are ready, you may move up to an Elementary level Certificate of English class, if you desire. At your departure, you will receive a final progress report, and a certificate.
Book a place
or
Ask a question
Accredited by these organisations
:
ICEF
,
English UK