Intensive Academic English - EAP & IELTS
This course is the best preparation for students wishing to study in English at an Australian university or business college. Whether you want to gain entry to your course via one of ELC's direct entry agreements or by taking the IELTS examination, this program will get you into the course and ensure you are ready to enjoy it.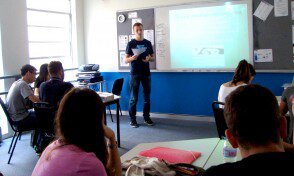 Our price promise
If you find this course cheaper elsewhere, we will match the price and give you a £50 voucher when you book*.
*Applies only to like-for-like dates at the same school on the same course for the same duration.
Study
Minimum entry requirements
Course format
Length of study

:

From 2 weeks

Hours per week

:

25

Maximum class size

:

15

Typical student age

:

19 - 27

Typical student mix

:

24% European, 27% Asian, 18% South American, 19% Middle Eastern, 12% Far Eastern
Dates and fees
Course starts each

Mon

Tuition fees

:

From

800.00

AUD

Tuition length options

2 weeks

:

800.00

AUD

3 weeks

:

1200.00

AUD

4 weeks

:

1600.00

AUD

5 weeks

:

2000.00

AUD

6 weeks

:

2400.00

AUD

7 weeks

:

2800.00

AUD

8 weeks

:

3200.00

AUD

9 weeks

:

3600.00

AUD

10 weeks

:

4000.00

AUD

11 weeks

:

4400.00

AUD

12 weeks

:

4800.00

AUD

Compulsory fees

Our admin fee

:

49

AUD

Enrolment fee

:

220.00

AUD

Other expenses

:
Course Overview
EAP students
Students following the EAP stream of Academic English must successfully complete a minimum of 10 weeks of class work and assignments to be awarded an EAP certificate and gain direct entry into one of the business colleges or universities that ELC has agreements with. However, if students' plans change, the course prepares them well to take the IELTS test and enrol at any institution they like!
IELTS students
Students following the IELTS stream of Academic English will develop knowledge of the IELTS exam and test taking skills, and improve their academic skills, so when they start a course at a business college or university they will have all the skills they need to perform well in their studies. In professional jobs, these same skills, reading and writing reports and giving presentations for example, will also be highly valued.
Teaching method
To help both EAP and IELTS students you will have weekly individual sessions with the Academic English coordinators who will create and manage your personal study plan, tailor the course to your needs, and give you feedback on your progress towards your IELTS or EAP goals or advice on your future studies.
Course detail.
This is our popular full-time course, which allows you to improve your academic English skills and prepare for study and exams. You will study in groups all day and choose a Special Focus Module class in the afternoon.
Afternoon classes
Fluency Fast track
Practise everyday conversation in a relaxed environment. Talk to other students and teachers about things that interest you – a different topic each week
Australian studies
Learn interesting facts about Australian culture, history, sport, travel destinations and lots more.
Songs
Improve your listening skills and learn new vocabulary. You don't have to be good at singing to enjoy this class!
Pronunciation
Learn how to make your English sound clear and natural. These workshops given by specialist ELC teachers focus on a different aspect of pronunciation each week.
Work OZ
Learn essential skills and vocabulary for working in Australia. These workshops include: resume preparation, job interview practice and specialized language, such as English for working in a cafe.
Independent studies
Study independently with a teacher available to answer your questions. Use this time however you need to, for example: complete exam practice, do extra grammar and vocabulary activities to prepare your work resume with the teacher's help
Book a place
or
Ask a question
Accredited by these organisations
:
ICEF
,
English UK