English for University Study
Prepare the skills and English language you need for a degree at a UK university. An intensive English language and study skills course for successful university study at degree level, or for entry to an INTO City University academic programme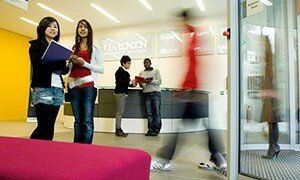 Our price promise
If you find this course cheaper elsewhere, we will match the price and give you a £50 voucher when you book*.
*Applies only to like-for-like dates at the same school on the same course for the same duration.
Study
Minimum entry requirements
Minimum age

:

17

English level

:

A2: Elementary

/

|

IELTS 3

Academic level

:

Students who do not meet minimum English language requirements should enquire about General English courses available at the centre.
Course format
Length of study

:

From 1 term

Hours per week

:

20

Maximum class size

:

14

Typical student age

:

18-24

Typical student mix

:

40% European, 50% Far Eastern, 10% Other
Dates and fees
Start dates

:

7 Apr 2014
7 Jul 2014
22 Sep 2014
5 Jan 2015
6 Apr 2015
6 Jul 2015

Tuition fees

:

From

3950.00

GBP

Tuition length options

1 term

:

4250.00

GBP

1 term

:

3950.00

GBP

(April 2014, July 2014)

Compulsory fees

Our admin fee

:

49

GBP

Enrolment fee

:

50.00

GBP

Textbooks

:

75.00

GBP

Other expenses

:
Overview
English for University Study will prepare you for successful undergraduate or postgraduate study at a UK university, or for entry to one of the academic preparation courses offered by INTO City University, London.
Course elements
As well as studying the core elements of the English language, you will also develop your knowledge and skills in areas such as academic speaking and listening, academic writing, note-taking, research and project skills, report writing, and presenting.
The course will help you adjust to the demands, challenges and expectations of UK higher education.
You will also be able to practise your developing language skills in a vibrant learning environment where you can take advantage of the University's additional learning facilities and mix with a wide variety of British and international students.
What will I study?
This course will enable you to develop your knowledge, ability and confidence in a variety of skills that are essential for higher education, as well as giving you a greater command of written and spoken English. You will study:
Language Development
Academic Speaking and Listening Skills
Academic Writing
Academic Reading and Study Skills
Depending on your level of English, you will spend more hours each week on different modules.
Where will it take me?
As part of the course, you will receive independent advice and guidance to support your university selection and the process of applying to a UK university.
As long as you have met the academic requirements for your chosen degree programme, successful completion of the course offers:
Direct entry to an undergraduate or postgraduate degree programme at City University London without the need for an external IELTS exam
Assured progression to an International Foundation or Graduate Diploma programme without the need for an external IELTS exam.
Book a place
or
Ask a question
Accredited by these organisations
:
ICEF
,
English UK