English Language Year Abroad – Standard
On the English Year Abroad programme you will develop fluency in English and have one of the most amazing experiences of your life. You can rest assured that you will also make new friends and explore new places during your Language Year Abroad in Boston.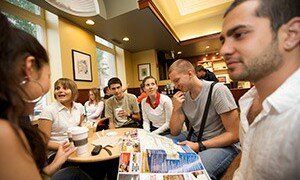 Our price promise
If you find this course cheaper elsewhere, we will match the price and give you a £50 voucher when you book*.
*Applies only to like-for-like dates at the same school on the same course for the same duration.
Study
Minimum entry requirements
Course format
Length of study

:

From 1 term

Lessons per week

:

20

Hours per week

:

16

Maximum class size

:

15

Typical student age

:

18 - 35

Typical student mix

:

18% Asian, 32% Latin American, 12% Japanese, 10% European, 20% Middle Eastern, 8% Far Eastern
Dates and fees
Start dates

:

31 Mar 2014
30 Jun 2014
22 Sep 2014

Tuition fees

:

From

3630.00

USD

Tuition length options

1 term

:

3630.00

USD

2 terms

:

6370.00

USD

3 terms

:

9255.00

USD

4 terms

:

12140.00

USD

Compulsory fees

Our admin fee

:

49

USD

Enrolment fee

:

150.00

USD

Other expenses

:
Why choose an English Year Abroad course?
Steadily improve your English each week

Focussed improvement in General English, Exam Preparation or Business Communication
Become confident using English in study visits, lectures and tests
Get tips and advice on how to apply to university or for a job
Stay focussed with motivating monthly tutorials and regular assessment.
Course content
You will focus on the core skills of grammar, vocabulary, pronunciation, reading, speaking, listening, and writing. Normally the lessons are in the morning.
Course structure
20 General English, Exam Preparation, Business Communication lessons. You will focus on:
Grammar skills

Vocabulary
Conversation skills
Reading
Listening
Teaching method
All lessons are taught the Embassy way, with full in-class participation, group work, pair work, and class discussions. Bear in mind that exam classes also necessitate a certain amount of solo work and mock examinations. Students are expected to be dedicated and to work to the best of their abilities.
You can be confident that Embassy's professional, qualified teachers will respond to the needs of the class, using an assortment of learning materials and techniques. You'll be expected to complete daily homework assignments and sample tests.
Technology in the classroom
You will have access to the modern technologies on offer to help your language learning experience. These include interactive whiteboards and captivating online learning environments. It is all part of bringing your language learning experience alive and ensures that your learning experience will be a positive one.
All text books and materials are provided on this course. You may wish to purchase additional supporting books, although they are not essential.
Book a place
or
Ask a question
Accredited by these organisations
:
ICEF
,
English UK