General English + Business English
The Business English course allows you to combine study of general vocabulary, grammar and skills tuition at an appropriate level with focused business English lessons. This course will give you a competitive advantage in your career and increase your employment prospects.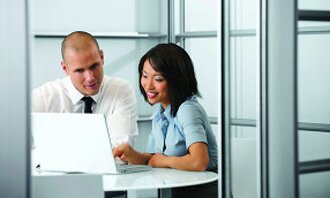 Our price promise
If you find this course cheaper elsewhere, we will match the price and give you a £50 voucher when you book*.
*Applies only to like-for-like dates at the same school on the same course for the same duration.
Study
Minimum entry requirements
Course format
Length of study

:

From 2 weeks

Hours per week

:

25

Maximum class size

:

15

Typical student age

:

22 - 45

Typical student mix

:

18% Middle Eastern, 32% European, 42% Asian, 8% Russian
Dates and fees
Course starts each

Mon

Tuition fees

:

From

780.00

AUD

Tuition length options

2 weeks

:

780.00

AUD

3 weeks

:

1170.00

AUD

4 weeks

:

1560.00

AUD

5 weeks

:

1950.00

AUD

6 weeks

:

2340.00

AUD

7 weeks

:

2660.00

AUD

8 weeks

:

3040.00

AUD

9 weeks

:

3420.00

AUD

10 weeks

:

3800.00

AUD

11 weeks

:

4180.00

AUD

12 weeks

:

4560.00

AUD

13 weeks

:

4810.00

AUD

14 weeks

:

5180.00

AUD

15 weeks

:

5550.00

AUD

16 weeks

:

5920.00

AUD

17 weeks

:

6120.00

AUD

18 weeks

:

6480.00

AUD

19 weeks

:

6840.00

AUD

20 weeks

:

7200.00

AUD

21 weeks

:

7560.00

AUD

22 weeks

:

7920.00

AUD

23 weeks

:

8280.00

AUD

24 weeks

:

8640.00

AUD

Compulsory fees

Our admin fee

:

49

AUD

Enrolment fee

:

220.00

AUD

Textbooks

:

140.00

AUD

Other expenses

:
Why choose this Business English course?
Optimum combination of everyday English and business-specific language skills
Fast progress in English for the workplace
Dynamic teachers
Possibility to add customised one-to-one tuition
Business English certificate
Course overview
The lessons are designed for professionals or students planning to enter a job which will require a good level of English. There are General English classes in the morning and business specific modules in the afternoon.
The Business class focuses on spoken and written English for daily workplace communication and you will complete a range of practical assignments.
Course focus
Daily workplace language such as explanations and instructions
Business communication skills for meetings, negotiations, presentations, interviews and socialising
Skills in writing business reports, letters, emails
Vocabulary for business topics including management, marketing, finance, human resources, sales
Essential soft skills such as negotiating, problem-solving and presentations
English Extra classes
This course includes access to our English Extra classes. These are a great chance to develop your everyday English further as well as attend some special interest classes.
English Extra Options
Fluency Fast track
Practise everyday conversation in a relaxed environment. Talk to other students and teachers about things that interest you – a different topic each week.
Australian studies
Learn interesting facts about Australian culture, history, sport, travel destinations and lots more.
Language through song
Improve your listening skills and learn new vocabulary. You don't have to be good at singing to enjoy this class!
Pronunciation
Learn how to make your English sound clear and natural. These workshops given by specialist ELC teachers focus on a different aspect of pronunciation each week.
Work Australia
Learn essential skills and vocabulary for working in Australia. These workshops include: resume preparation, job interview practice and specialized language, such as English for working in a cafe.
Independent studies
Study independently with a teacher available to answer your questions. Use this time however you need to, for example: complete exam practice, do extra grammar and vocabulary activities to prepare your work resume with the teacher's help.
Sample timetable
Each Week | 15 Hours General English | 5 Hours Business English | 5 Hours English Extras
Day →
Mon
Tue
Wed
Thu
Fri
Notes: This is a sample time table only. It is subject to amendment / alteration without notice
09:00 to 10:30
Weekly progress test
Vocabulary & Speaking
Listening & Speaking
Vocabulary & Speaking
Listening&Speaking
11

:00 to 12:30

Natural English & extended speaking
Grammar
Reading & Vocabulary
Writing skills
Grammar
12:30 to 13:30
Lunch
13

:30 to 14:30

Business English
Business English
Business English
Business English
Business English
14:30 to 14:45
Break
Break
Break
Break
Break
14

:45 to 15:45

English Extras

Soft skills

English Extras

Working in English

English Extras

Excursion

English Extras

Global affairs

English Extras

Presentations
Sample social programme - 7 days - Tuesday start
Date →
Tuesday
Wednesday
Thursday
Friday
Saturday
Sunday
Monday
Note: This is a sample social programme only. Some activities are free. Other activities there is a small charge. On arrival at school you will be given a social programme that relates to the length of your studies. Some activities depend on minimum numbers. The school is very receptive to new / different social activity suggestions from students.
Film Club
Indoor Soccer
Welcome drinks
Maritime Museum Visit
Mexican Fiesta Party
Visit to Newtown
Blue Mountains Adventure + Hike
Free day
Opera House Visit
Book a place
or
Ask a question
Accredited by these organisations
:
ICEF
,
English UK