French plus conversational French
Our partner school in Montpellier, France uses an excellent communicative teaching method which is based on the Common European Framework of Reference for Languages. This innovative way of learning French ensures that you will quickly develop the five language skills: listening, reading, interacting, expressing yourself orally and through writing.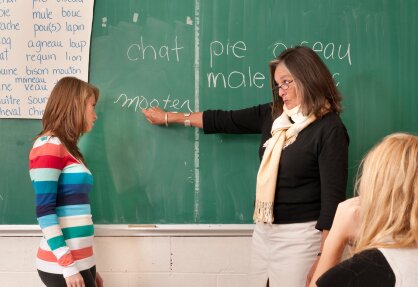 Our price promise
If you find this course cheaper elsewhere, we will match the price and give you a £50 voucher when you book*.
*Applies only to like-for-like dates at the same school on the same course for the same duration.
Study
Minimum entry requirements
There are no entry requirements for this course.
Course format
Length of study

:

From 1 week

Lessons per week

:

28

Maximum class size

:

12

Typical student age

:

20-44

Typical student mix

:

27% North American, 31% European, 19% Far Eastern, 4% Middle Eastern, 19% Australasian
Dates and fees
Course starts each

Mon

Tuition fees

:

From

330.00

EUR

Tuition length options

1 week

:

330.00

EUR

2 weeks

:

660.00

EUR

3 weeks

:

990.00

EUR

4 weeks

:

1320.00

EUR

5 weeks

:

1625.00

EUR

6 weeks

:

1930.00

EUR

7 weeks

:

2235.00

EUR

8 weeks

:

2540.00

EUR

9 weeks

:

2845.00

EUR

10 weeks

:

3150.00

EUR

11 weeks

:

3455.00

EUR

12 weeks

:

3760.00

EUR

Compulsory fees

Our admin fee

:

49

EUR

Enrolment fee

:

80.00

EUR

Other expenses

:
Course overview
The course is structured to help you use French that is relevant to the culture and everyday life in France. The aim being to help you use what you have learnt not just for the classroom but also for your work and personal enjoyment.
In fact the aim of all the courses on offer at this school is to help you feel confident speaking and communicating with the French locals during your stay as well as improving your core skills.
French classes
French is taught in an innovative and interesting way and teachers encourage students to develop their French skills using participative based learning which includes role plays, class discussions and debates.
The fundamentals of language learning is key to all classes and the school pays particular attention in all classes on developing the core skills of speaking, listening, reading and writing.
Teaching methodology
The school uses a wide variety of authentic materials to keep you stimulated which include: local and national newspapers, latest songs form key French artists, photos of the local region and a wide selection of audio/visual aids.
Excursions and Activities
After a hard day getting to grips with the nuances of the French language why not make the most of what Montpelier has to offer.
The school has a weekly excursion and activity programme which is designed to give you the chance to sample as much of the region as you can while giving you the opportunity to put into practice all that you have learnt during your class time.
The school's cultural events team works closely with the teaching staff when developing the schedule to ensure that your educational and social programmes are complementary.
The wide variety of activities vary depending on the time of year and typically include : guided tours, bike tours, restaurant tours, excursions to cities and sites within the Languedoc region, French cinema evenings, theatre performances, sports activities, wine and cheese evenings, singing, local crafts and traditional dances
As part of your stay, you can also take advantage of a free guided tour of Montpellier each week.
Book a place
or
Ask a question
Accredited by these organisations
:
ICEF
,
English UK