German Language with Internship
If you want to try and test your German in real life and get some real life work experience in Germany, then this excellent unpaid internship programme, run by our partner school GLS, in Berlin, is a great choice.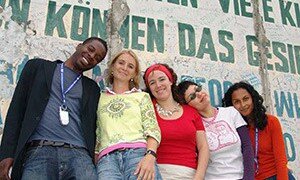 Our price promise
If you find this course cheaper elsewhere, we will match the price and give you a £50 voucher when you book*.
*Applies only to like-for-like dates at the same school on the same course for the same duration.
Study
Minimum entry requirements
Course format
Length of study

:

4 weeks

Lessons per week

:

20

Maximum class size

:

12

Typical student age

:

18 - 30

Typical student mix

:

71% European, 14% Far Eastern, 5% Middle Eastern, 10% North American
Dates and fees
Course starts each

Mon

Compulsory fees

Our admin fee

:

49

EUR

Internship fee

:

600.00

EUR

Other expenses

:
Language classes
The language element of the internship programme helps you build on the four fundamentals of language learning - listening, writing, reading and speaking. 'Free' class discussions, role-playing and conversation help develop verbal expression, vocabulary and good sentence structure.
Grammar is not studied in isolation; rather it is packed in informative and stimulating texts that provide valuable cultural, political and historical background. Some topics covered include: relationships, social life, jobs and labour, history of Berlin, cultural identity.
Teaching method
Our partner school 'teaches in tandem', with two teachers responsible for every class, and alternating at every break. That way students get to hear more than one voice and speaking style. The focus is on the following:
Communicative approach with teachers encouraging students to speak as much as possible
Teachers continuously correct students and encourage them to repeat and do better
German is the only language spoken in class, from the first day onwards
Teachers
All teachers are native speakers between 26 and 45 and have an academic background with degrees – for example – in German language and/or literature They all have recognised teacher training qualifications and most of them have been with GLS for many years.
The teachers have a reputation for being enthusiastic and give excellent communicative tuition which combines the function of a coach and a teacher.
Many of the school's teachers have expertise in other fields (photography, journalism, business consultancy etc) which inspire their teaching and make them interesting people to talk to.
Teaching materials
Text books: studio d, Themen aktuell (levels A0 – A2), Aspekte, Mittelpunkt, em (levels B1, B2, C1),Oberstufenbuch (level C2) – GLS constantly monitor new publications and may employ additional text books that seem appropriate.
Hand-outs like newspaper articles, literature etc.
Multimedia-teaching with CDs, OHP, video and video camera
For self study students can borrow books and audio tapes from the library
Internship
In our opinion this is an outstanding programme for those looking for structured career orientated work experience. It is great for your CV and could be brilliant for job opportunities as well. There are a large number of internships available, (nationality restrictions may apply), across a broad range of disciplines; from architectural practices to law and from commercial organisations to government departments.
A prerequisite is your participation on a GLS German language course of a minimum of four weeks - longer, if you need more time to reach level B1, required by German host companies in Berlin. The price quoted is based on a standard four week German course at GLS plus your choice of an internship for six, eight or twelve weeks.
Application process
Please apply to us for an internship in Berlin no later than 4 weeks prior to your planned arrival. Your application should be accompanied by the following:
CV in German - Don´t worry about minor mistakes you may make - if necessary the school will correct linguistic mistakes before sending it out to companies.
The school will also help you develop your CV with you once you are in Berlin, but you will need to accompany your application with at least a first draft from you, however imperfect, when you enroll.
Letter of intent in German - describing your language skills, previous professional experiences and expectation of what sort of organisation that you would like an internship with in Berlin
Information, what type of course and accommodation you would like to book
If you need help or further information please contact us.
Activities
The school offers a daily activity programme to complement and enhance your language studies. Each week there is a list of activities available, posted in the student common room. So activities are free. Others there is a small charge.
Activities include such things as a boat trip around Museum Island or a bike tour along the Berlin wall.
At night GLS guides take you to Friedrichshain: a young and rather alternative district famous for its nightlife
Excursions
There are also trips on offer to see "Kunstwerke", one of the best addresses for independent art in all of Europe - the cafe there has good cakes! Your author of this masterpiece has eaten far too many cakes at this wonderful cafe and is now on a diet!!
At the week end the school gives you the opportunity to go on full day excursions (extra cost), with a GLS guide to places such as Potsdam, or to Sachsenhausen, a former concentration camp. Every second week the school arranges excursions to places further away like Dresden, Hamburg or Leipzig.
Book a place
or
Ask a question
Accredited by these organisations
:
ICEF
,
English UK