IELTS English Exam Preparation 28
A good score in the International English Language Testing System (IELTS) is often a requirement for admission into British, Australian and New Zealand universities. It is also becoming increasingly recognised internationally for universities worldwide. Test your level.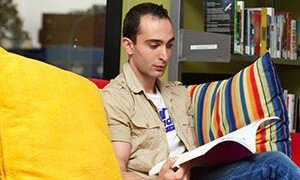 Our price promise
If you find this course cheaper elsewhere, we will match the price and give you a £50 voucher when you book*.
*Applies only to like-for-like dates at the same school on the same course for the same duration.
Study
Minimum entry requirements
Course format
Length of study

:

From 4 weeks

Lessons per week

:

28

Maximum class size

:

15

Typical student age

:

17- 51

Typical student mix

:

30% Asian, 20% Far Eastern, 12% Japanese, 24% European, 14% Middle Eastern
Dates and fees
Course starts each

Mon, excluding weeks that include Christmas, New Year

Tuition fees

:

From

1788.00

NZD

Tuition length options

4 weeks

:

1788.00

NZD

5 weeks

:

2235.00

NZD

6 weeks

:

2682.00

NZD

7 weeks

:

3150.00

NZD

8 weeks

:

3600.00

NZD

9 weeks

:

4050.00

NZD

10 weeks

:

4500.00

NZD

11 weeks

:

4950.00

NZD

12 weeks

:

5316.00

NZD

13 weeks

:

5759.00

NZD

14 weeks

:

6202.00

NZD

15 weeks

:

6645.00

NZD

16 weeks

:

7088.00

NZD

17 weeks

:

7531.00

NZD

18 weeks

:

7974.00

NZD

19 weeks

:

8417.00

NZD

Compulsory fees

Our admin fee

:

49

NZD

Enrolment fee

:

150.00

NZD

Other expenses

:
Course Overview
The IELTS English exam preparation course, offered by our partner school in New Zealand, allows you to study full time or part time. Not only will you join a dedicated class of students all studying towards the same goal, but you will benefit from having experienced IELTS teachers, who will help you with exam preparation techniques, as well as focusing on your language learning needs.
You will have the opportunity to see and study past exam papers to help you develop the exact skills you need to pass the IELTS exam, whilst at the same time having the opportunity to improve your all round English. In short you can be confident that your teachers will help you develop the skills you need to enter the exam room with confidence - and exit with great results!
Course structure
This course is based on twenty exam preparation lessons a week and eight Elective lessons. You can choose from the following Electives:
Grammar

Vocabulary
Conversation skills
Presentation skills
Business communication
You choose up to a maximum of two electives and every four weeks you have the option of choosing to focus on different Electives.
If you wish you can choose to opt for twenty Elective lessons a week and eight exam preparation lessons. Please contact us for more details.
Teaching method
All lessons are taught the Embassy way, with full in-class participation, group work, pair work, and class discussions. Bear in mind that exam classes also necessitate a certain amount of solo work and mock examinations. Students are expected to be dedicated and to work to the best of their abilities.
You can be confident that Embassy's professional, qualified teachers will respond to the needs of the class, using an assortment of learning materials and techniques. You'll be expected to complete daily homework assignments and sample tests.
Technology in the classroom
You will have access to the modern technologies on offer to help your language learning experience. These include interactive whiteboards and captivating online learning environments. It is all part of bringing your language learning experience alive and ensures that your learning experience will be a positive one. All text books and materials are provided on this course. You may wish to purchase additional supporting books, although they are not essential.
Exam Results
The minimum level for joining this course is Intermediate, which is roughly equal to IELTS 4.5 to 5.5. You can expect to rise by approximately one IELTS point per 12 weeks that you study. So, for example, if you begin as Intermediate and study for 12 weeks, you can expect your new IELTS score to be 5.5 to 6.5. British universities usually require a 5.5 to 7.0 score for entrance, depending on the type of course that you choose.
Book a place
or
Ask a question
Accredited by these organisations
:
ICEF
,
English UK