Intensive Business Spanish
Madrid is the pulsating capital of Spain; with its excellent shops, wide avenues and multitude of restaurants it is a great place to learn Spanish and soak up Spanish culture.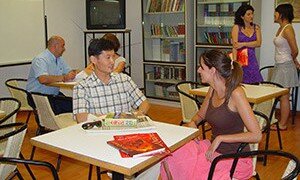 Our price promise
If you find this course cheaper elsewhere, we will match the price and give you a £50 voucher when you book*.
*Applies only to like-for-like dates at the same school on the same course for the same duration.
Study
Minimum entry requirements
Course format
Length of study

:

From 2 weeks

Lessons per week

:

30

Maximum class size

:

8

Typical student age

:

18-55

Typical student mix

:

66% European, 6% Far Eastern, 11% Middle Eastern, 17% North American
Dates and fees
Start dates

:

3 Feb 2014
5 May 2014
2 Jun 2014
30 Jun 2014
28 Jul 2014
1 Sep 2014
6 Oct 2014

Tuition fees

:

From

775.00

EUR

Tuition length options

2 weeks

:

775.00

EUR

4 weeks

:

1550.00

EUR

Compulsory fees

Our admin fee

:

49

EUR

Enrolment fee

:

65.00

EUR

Other expenses

:
Course overview
On the Intensive Business course you will learn the basics of business Spanish. You will study alongside active professionals taking the course to advance their careers and current university students on the brink of graduation.
The four week long programme is made up of twenty general Spanish classes per week, plus ten specialised classes focused on business Spanish.
Intensive Spanish module
On the Spanish Intensive course there are twenty Intensive Spanish language classes a day from Monday to Friday in groups of no more than eight students.
In addition, with the 'formula +1' you have the option of attending an extra and completely free daily class covering different topics of cultural interest of Spain and Latin America.
We know that for Intensive Spanish courses to be successful, it is not enough to offer excellent teaching. Other factors, such as socio-cultural aspects, also play an important part in its success.
Each day, the class takes you one step closer to achieving your goal - to communicate, read and understand more and Spanish better. For this reason, the school integrates all skills in the classroom, combining the intensive Spanish language classes with various tasks and activities in which you are the main protagonist.
Course content examples
Reading, analysis and debates on newspaper articles.
Telephone conversations in Spanish.
Viewing and discussing films and documentaries.
Listening to songs.
Debates on current affairs.
Learning grammatical rules in specific context.
Business module
On the business element, (two classes each day), of the course you will build on what you have learnt on the intensive Spanish module and focus on the following:
Practical case studies

Balance sheets
Chairing business meetings
Negotiating tactics and skills
Conversation
Presentations
Options and information
While we recommend you complete the entire course, the school have designed a flexible curriculum to allow you to join the class at any time during the programme for 1, 2, 3 or 4 weeks. The maximum number of students for the business element of the course is 12 per class.
If you have limited time and a strong command of Spanish, you may opt to take the business specialisation portion of the course, two classes daily of business-focused classes, without the general Intensive Spanish course. Contact us for more details.
Book a place
or
Ask a question
Accredited by these organisations
:
ICEF
,
English UK