French Language and Activity Course for teenagers – Intensive
This excellent intensive French language and activity course for teenagers in Antibes on the Cote d' Azur has twenty six language lessons a week as well as a full afternoon and evening programme It has proved to be very popular with those wishing to get even more out their French skills but equally keen to have a great time.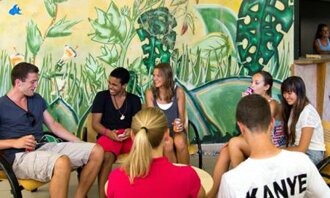 Our price promise
If you find this course cheaper elsewhere, we will match the price and give you a £50 voucher when you book*.
*Applies only to like-for-like dates at the same school on the same course for the same duration.
Study
Minimum entry requirements
Course format
Length of study

:

From 1 week

Lessons per week

:

26

Maximum class size

:

15

Typical student age

:

13-17

Typical student mix

:

66% European, 19% Far Eastern, 15% Middle Eastern
Dates and fees
Start dates

:

25 Mar 2018
1 Apr 2018
8 Apr 2018
15 Apr 2018
22 Apr 2018
29 Apr 2018
6 May 2018
13 May 2018
20 May 2018
20 May 2018
27 May 2018
3 Jun 2018
10 Jun 2018
17 Jun 2018
24 Jun 2018
19 Aug 2018
26 Aug 2018
2 Sep 2018
9 Sep 2018
16 Sep 2018
23 Sep 2018
30 Sep 2018
7 Oct 2018
14 Oct 2018
21 Oct 2018

Tuition fees

:

From

845.00

EUR

Tuition length options

1 week

:

845.00

EUR

2 weeks

:

1690.00

EUR

3 weeks

:

2535.00

EUR

4 weeks

:

3380.00

EUR

Compulsory fees

Our admin fee

:

49

EUR

Enrolment fee

:

70.00

EUR

Other expenses

:
French lessons
The aim of the French classes is to help you with your spoken and listening French in an informal and friendly environment with students of a similar age and at a similar French level
The lessons focus on core skills - speaking, reading, writing and listening. Use is also made of role play methods , with tutor support, with the aim of bringing the French you learn alive.
Teaching methodology
The school uses innovative teaching materials to help ensure that classes are interesting and stimulating including the use of cartoons, articles, videos etc. The teaching manuals and teaching materials that you use during your stay have been tailor made by the school's teaching department.
Student welfare
Students are under supervision 24/7, except during the periods allowed by the 'permissions to go out' provided by their parents.
School staff are always on hand to answer any questions, organise games, join in during the meals and overall being available to assist the students
Activity and Excursion programme
Each week there is plenty to choose from and unless stated all the activities and excursions are included in the overall price.
Afternoons
Sailing for 13 to 17 year olds*
On-premise sports
Arts and craft activities
Volleyball and soccer tournaments
Themed activities
A free shuttle service to the beach or town centre is available for students living on campus
Evenings
A "barbecue" or themed meal
A dance evening on our premises
Activities: games, cabarets, shows
Golf lessons at an extra charge (in summer only)
2 hours in the afternoon, Monday to Friday
8 students max. per group
"Practice", small game area, "putting green"
Excursions
One full-day excursion at the weekend (the Lérins Islands, Nice or a nautical theme park)
A half-day excursion during the week (Monaco, Cannes, Marineland, etc.)
NOTE: Extra charges may apply to sailing lessons
Sample timetable
Day →
Sun
Mon
Tue
Wed
Thu
Fri
Sat
Note: This is a sample programme only. Activities and excursions subject to change.
07:30 to 08:45
Breakfast
Morning sessions: 09

:00 to 12:20

Arrivals / settling in
Language test
Excursion to Monaco
Lessons 9-12
Lessons 13-16
Lessons 17-20
Day at Marineland
Walking tour of Antibes
12:20 to 13:30
Lunch
Afternoon sessions: 13

:30 to 18:00

Arrivals / settling in
Lessons 1-4
Excursion to Monaco
Sailing
At leisure
Basket ball
Day at Marineland
Pool games
Volleyball
Games at the pool
Beach
19:00 to 20:00
Dinner
Evening activities: 20

:00 to 23:30

Welcome evening
Barbecue
Circus skills
At leisure
Student cabaret
Discotheque
At leisure
Book a place
or
Ask a question
Accredited by these organisations
:
ICEF
,
English UK