Intensive IELTS English Exam Preparation
The IELTS exam courses will develop your English skills and improve your exam technique in preparation for the IELTS (International English Language Testing System) exam.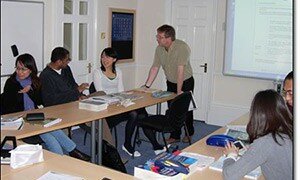 Our price promise
If you find this course cheaper elsewhere, we will match the price and give you a £50 voucher when you book*.
*Applies only to like-for-like dates at the same school on the same course for the same duration.
Study
Minimum entry requirements
Course format
Length of study

:

From 1 week

Hours per week

:

20

Maximum class size

:

10

Typical student age

:

17-39

Typical student mix

:

30% European, 40% Far Eastern, 30% Middle Eastern
Dates and fees
Course starts each

Mon, excluding weeks that include Christmas, New Year

Tuition fees

:

From

389.00

GBP

Tuition length options

1 week

:

389.00

GBP

2 weeks

:

778.00

GBP

3 weeks

:

1167.00

GBP

4 weeks

:

1556.00

GBP

5 weeks

:

1945.00

GBP

6 weeks

:

2334.00

GBP

7 weeks

:

2723.00

GBP

8 weeks

:

3112.00

GBP

9 weeks

:

3501.00

GBP

10 weeks

:

3890.00

GBP

11 weeks

:

4279.00

GBP

12 weeks

:

4668.00

GBP

Compulsory fees

Our admin fee

:

49

GBP

Enrolment fee

:

95.00

GBP

Other expenses

:
Introduction
IELTS is recognised by thousands of institutions in over 135 countries and can help you improve your job prospects or gain entrance to university.
Course information
The schools expert IELTS teachers will prepare you for the four components of the IELTS exam - listening, speaking, reading and writing.
You will develop your English through learning activities such as class discussions, report - writing, lectures and mock exams and complement your classwork with a range of self study activities. Access to the school's online study module is also included in your course.
Tutorials and study skills
Courses include tutorial with your teacher to review and plan your learning progress. You will also benefit from progress tests and a written report from your main class teacher every six weeks.
Sessions with your teacher in the learning centre and computer rooms will improve your independent study skills, essential for helping you continue your learning once you have completed the course.
Book a place
or
Ask a question
Accredited by these organisations
:
ICEF
,
English UK