Intensive Italian
On this intensive Italian course, in Milan Italy, study is in small groups, (maximum twelve people). It covers all aspects of Italian language with a particular emphasis on developing communicative skills in speaking and writing. Each level can be completed in 4 weeks. Many students progress faster than four weeks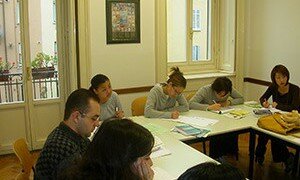 Our price promise
If you find this course cheaper elsewhere, we will match the price and give you a £50 voucher when you book*.
*Applies only to like-for-like dates at the same school on the same course for the same duration.
Study
Minimum entry requirements
Course format
Length of study

:

From 1 week

Lessons per week

:

30

Maximum class size

:

12

Typical student age

:

18-40

Typical student mix

:

49% European, 6% Far Eastern, 19% Middle Eastern, 26% North American
Dates and fees
Start dates

:

27 Oct 2014
24 Nov 2014
12 Jan 2015
16 Feb 2015
23 Mar 2015
27 Apr 2015
25 May 2015
22 Jun 2015
6 Jul 2015
3 Aug 2015
31 Aug 2015
28 Sep 2015
26 Oct 2015

Tuition fees

:

From

290.00

EUR

Tuition length options

1 week

:

290.00

EUR

2 weeks

:

580.00

EUR

3 weeks

:

870.00

EUR

4 weeks

:

1160.00

EUR

5 weeks

:

1450.00

EUR

6 weeks

:

1740.00

EUR

7 weeks

:

2030.00

EUR

8 weeks

:

2320.00

EUR

9 weeks

:

2610.00

EUR

10 weeks

:

2900.00

EUR

11 weeks

:

3190.00

EUR

12 weeks

:

3480.00

EUR

13 weeks

:

3770.00

EUR

14 weeks

:

4060.00

EUR

15 weeks

:

4350.00

EUR

16 weeks

:

4640.00

EUR

17 weeks

:

4930.00

EUR

18 weeks

:

5220.00

EUR

19 weeks

:

5510.00

EUR

20 weeks

:

5800.00

EUR

21 weeks

:

6090.00

EUR

22 weeks

:

6380.00

EUR

23 weeks

:

6670.00

EUR

24 weeks

:

6960.00

EUR

Compulsory fees

Our admin fee

:

49

EUR

Enrolment fee

:

80.00

EUR

Other expenses

:
Course overview
This excellent intensive Italian course is designed for motivated students who need to improve their language skills either for general use or for their study or work.
Course content
In the morning you will develop your general Italian language skills and in the afternoon you will have more time to focus on specific aspects of Italian language and culture.
You will also be able to improve your communication skills on this course and there is further practice in areas such as conversation and vocabulary expansion.
You can also, if you so wish, choose to focus on the use of Italian in a work context and there will be the opportunity to improve your social and intercultural skills as well.
Teaching methodology
Each group is taught by two teachers a day in order to ensure more varied and stimulating instruction. Each level can be completed in 4 weeks. At the end of each course after successful completion of a test you can progress to the next level.
Classes are lively, stimulating and most of all enjoyable. Students are provided with useful vocabulary and relevant grammar presented in a modern and interesting way. We estimate that each level can be completed in around four weeks.
On successful completion of a language test you can then go on to take the next level.
Activities and Excursions
Every month the school organises a daily programme of activities exclusively for you. The activities are designed to ensure that you will have the possibility to broaden your knowledge of Italian culture. The school also offers students the opportunity to visit some famous Italian cities.
Activities and excursions may include:
An art historian will take you on excursions to visit museums, Visits to world-renown works of art and places of historical interest.
Field trips are arranged to other cities in Italy or to local spots known for their beauty.
Afternoon lectures on Italian customs and current events or watch Italian films.
Learn how to prepare delicious dishes of Italian cuisine.
Practice some sports
Enjoy evenings out for dinner
Note: Some activities are free of charge others there is a small fee to pay.
Book a place
or
Ask a question
Accredited by these organisations
:
ICEF
,
English UK