Intensive Spanish 20
This twenty lesson a week Spanish course in Salamanca, Spain, is run by our partner school Enforex. They have an excellent reputation for high quality competitively priced Spanish language courses that are run in a professional and innovative way.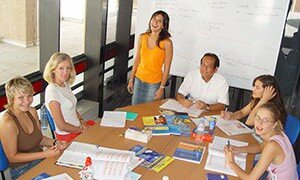 Our price promise
If you find this course cheaper elsewhere, we will match the price and give you a £50 voucher when you book*.
*Applies only to like-for-like dates at the same school on the same course for the same duration.
Study
Minimum entry requirements
Course format
Length of study

:

From 1 week

Lessons per week

:

20

Maximum class size

:

10

Typical student age

:

17 - 29

Typical student mix

:

66% European, 6% Far Eastern, 11% Middle Eastern, 17% North American
Dates and fees
Course starts each

Mon, excluding weeks that include Christmas, New Year

Tuition fees

:

From

145.00

EUR

Tuition length options

1 week

:

145.00

EUR

2 weeks

:

290.00

EUR

3 weeks

:

435.00

EUR

4 weeks

:

580.00

EUR

5 weeks

:

675.00

EUR

6 weeks

:

810.00

EUR

7 weeks

:

945.00

EUR

8 weeks

:

1080.00

EUR

9 weeks

:

1215.00

EUR

10 weeks

:

1350.00

EUR

11 weeks

:

1485.00

EUR

12 weeks

:

1620.00

EUR

Compulsory fees

Our admin fee

:

49

EUR

Enrolment fee

:

55.00

EUR

Other expenses

:
Course overview
The whole idea of the General Spanish courses is to give, you the student flexibility to manage your Spanish lessons around the other parts of your life and also to ensure that each student gets personal attention from their teacher. Class sizes are always limited to ten students per class. You can choose as many or as few lessons as you want. The minimum period is one week.
Courses are divided into grammar and conversation. First you will study the basic language skills individually - reading, writing, speaking and listening - and the idea is to then work to integrate all four disciplines.
Leisure activities
The school offer some great leisure activities to complement your language learning. Some of these are for an extra charge , some are complimentary.
On the first day of class you will receive a folder that includes the dates and prices, if any, of the months cultural activities and excursions. It is a really great way to get under the skin of Spanish culture and also make new friends in the process.
Book a place
or
Ask a question
Accredited by these organisations
:
ICEF
,
English UK