Italian for Business One to One
This business Italian language course is for the busy executive who needs to learn alot in a short space of time. Study is in a one to one basis and is tailored to your specific needs.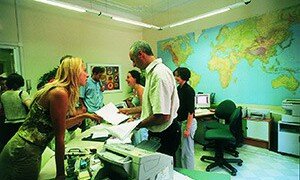 Our price promise
If you find this course cheaper elsewhere, we will match the price and give you a £50 voucher when you book*.
*Applies only to like-for-like dates at the same school on the same course for the same duration.
Study
Minimum entry requirements
Course format
Length of study

:

From 1 week

Lessons per week

:

20

Maximum class size

:

1

Typical student age

:

22-65

Typical student mix

:

49% European, 6% Far Eastern, 19% Middle Eastern, 26% North American
Dates and fees
Course starts each

Mon, excluding weeks that include Christmas, New Year

Tuition fees

:

From

920.00

EUR

Tuition length options

1 week

:

920.00

EUR

2 weeks

:

1840.00

EUR

3 weeks

:

2760.00

EUR

4 weeks

:

3680.00

EUR

Compulsory fees

Our admin fee

:

49

EUR

Enrolment fee

:

80.00

EUR

Other expenses

:
Course overview
This highly focused course has been developed with the busy executive in mind and it is aimed at meeting your business language needs, in a commercial context, in the shortest possible time. Students will be working with two or more teachers each with a special programme specifically tailored to your needs.
Book a place
or
Ask a question
Accredited by these organisations
:
ICEF
,
English UK