Intensive Spanish Course Plus 1 2 1
This intensive Spanish course, in Malaga, Spain, with one to one lessons is designed to enable students to develop their ability to communicate effectively and correctly in Spanish. The teaching style aims to be interesting, effective and enjoyable. The one to one element helps students focus on areas of specific need.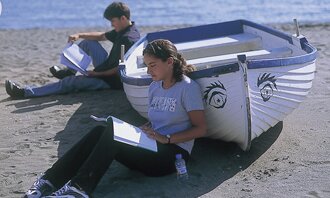 Our price promise
If you find this course cheaper elsewhere, we will match the price and give you a £50 voucher when you book*.
*Applies only to like-for-like dates at the same school on the same course for the same duration.
Study
Minimum entry requirements
Minimum age

:

16

Spanish level

:

:

/
Course format
Length of study

:

From 1 week

Lessons per week

:

25

Maximum class size

:

12

Typical student age

:

16 - 40

Typical student mix

:

57% European, 13% Far Eastern, 30% Middle Eastern
Dates and fees
Start dates

:

24 Nov 2014
8 Dec 2014
16 Mar 2015
30 Mar 2015
13 Apr 2015
27 Apr 2015
11 May 2015
18 May 2015
25 May 2015
8 Jun 2015
22 Jun 2015
29 Jun 2015
6 Jul 2015
20 Jul 2015
3 Aug 2015
17 Aug 2015
24 Aug 2015
7 Sep 2015
28 Sep 2015
12 Oct 2015
26 Oct 2015
9 Nov 2015

Tuition fees

:

From

375.00

EUR

Tuition length options

1 week

:

375.00

EUR

2 weeks

:

655.00

EUR

3 weeks

:

957.00

EUR

4 weeks

:

1276.00

EUR

5 weeks

:

1595.00

EUR

6 weeks

:

1914.00

EUR

7 weeks

:

2233.00

EUR

8 weeks

:

2552.00

EUR

9 weeks

:

2871.00

EUR

10 weeks

:

3190.00

EUR

11 weeks

:

3509.00

EUR

12 weeks

:

3828.00

EUR

13 weeks

:

4147.00

EUR

14 weeks

:

4466.00

EUR

15 weeks

:

4785.00

EUR

16 weeks

:

5104.00

EUR

17 weeks

:

5423.00

EUR

18 weeks

:

5742.00

EUR

19 weeks

:

6061.00

EUR

20 weeks

:

6380.00

EUR

21 weeks

:

6699.00

EUR

22 weeks

:

7018.00

EUR

23 weeks

:

7337.00

EUR

24 weeks

:

7656.00

EUR

Compulsory fees

Our admin fee

:

49

EUR

Enrolment fee

:

40.00

EUR

Other expenses

:
Course overview
The intensive plus Spanish course is a combination of the Intensive Course with one lesson each day of one to one tuition. The extra lesson is provided either before or after the group lessons at the school's discretion.
Under the supervision of a senior teacher/manager seconded from Malaca Instituto, La Brisa has a team of enthusiastic, well trained teachers who aim to motivate all their students to achieve or exceed their learning goals.
All of La Brisa's teachers participate in the on-going in-service training provided at Malaca Instituto to ensure that they are always up to date with the very latest teaching methods and concepts.
Teaching method
The teaching method is an effective combination of many aspects of the communicative approach with structured learning of the areas of Spanish grammar that are essential to help you progress.
While focusing on oral fluency, La Brisa do not forget the other skills (writing, listening and reading). The teachers ensure that the classes are always interesting, fun and really enjoyable by using a wide variety of techniques and language learning activities.
If you want to learn Spanish in a lovely environment, 408 meters from the sea, then this La Brisa Spanish course is for you !!
Cultural
By choosing to come and study in Malaga, we believe that our students are demonstrating an interest in the people, customs and traditions of Malaga and Andalucía. A key element in the school's language learning philosophy is to actively encourage students to use their time in Malaga to involve themselves in the many cultural activities that the school has to offer. It is a great way to improve your Spanish and enjoy life at the same time.
These may include:
Sevillana dance classes (a popular form of Flamenco)
Cultural talks (bull fighting, flamenco, wines etc.)
Flamenco shows
Excursions (Granada, Sevilla, Córdoba, Morocco, etc.)
Social
Students in la Brisa come from different countries, a variety of cultural backgrounds and are of differing ages. Getting to know each other and making life-long friendships is therefore one of the great attractions of the school.
The social activities are designed to help in this process and typically include parties and tapas bar visits.
After class activities
All the students are welcome to participate in the activities organised by La Brisas sister school, Malaca Instituto, during the academic year. These include Sevillana dance classes, excursions at the weekend, parties etc. The price of each activity is found in the activities programme which each student receives on the first day.
Sports
With its Mediterranean climate Málaga is ideal for sports enthusiasts.
From time to time we organise sports on the beach and multi-sports in a sports centre. We can also provide information about:
tennis
golf
keep fit classes
snow skiing (in winter)
diving
hiking
Book a place
or
Ask a question
Accredited by these organisations
:
ICEF
,
English UK