Intensive French Course
This is an intensive French course, of thirty lessons a week, at our excellent partner school in Antibes on the Cote d' Azur. The course gives you the opportunity to learn French in a wonderful environment. If you want to learn French, meet some great people, and enjoy France all at the same time this is the course for you.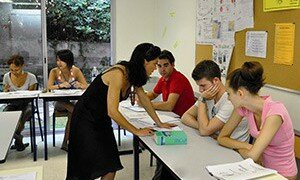 Our price promise
If you find this course cheaper elsewhere, we will match the price and give you a £50 voucher when you book*.
*Applies only to like-for-like dates at the same school on the same course for the same duration.
Study
Minimum entry requirements
Course format
Length of study

:

From 1 week

Lessons per week

:

30

Maximum class size

:

12

Typical student age

:

18-60

Typical student mix

:

58% European, 24% Far Eastern, 18% Middle Eastern
Dates and fees
Course starts each

Mon

Tuition fees

:

From

385.00

EUR

Tuition length options

1 week

:

385.00

EUR

2 weeks

:

730.00

EUR

3 weeks

:

1095.00

EUR

4 weeks

:

1460.00

EUR

5 weeks

:

1485.00

EUR

6 weeks

:

1782.00

EUR

7 weeks

:

2079.00

EUR

8 weeks

:

1832.00

EUR

9 weeks

:

2061.00

EUR

10 weeks

:

2290.00

EUR

11 weeks

:

2519.00

EUR

12 weeks

:

2748.00

EUR

13 weeks

:

2977.00

EUR

14 weeks

:

3206.00

EUR

15 weeks

:

3435.00

EUR

16 weeks

:

3664.00

EUR

17 weeks

:

3893.00

EUR

18 weeks

:

4122.00

EUR

19 weeks

:

4351.00

EUR

20 weeks

:

4580.00

EUR

21 weeks

:

4809.00

EUR

22 weeks

:

5038.00

EUR

23 weeks

:

5267.00

EUR

24 weeks

:

5496.00

EUR

Compulsory fees

Our admin fee

:

49

EUR

Enrolment fee

:

65.00

EUR

Other expenses

:
Course overview
The focus of this French language course is on spoken and written French, in a friendly atmosphere. You will learn essential grammar points as well as concentrating on improving your communication skills. The course also includes developing your listening and reading skills.
There will be no lessons on the first Monday of your stay. Instead, in the morning, students have a briefing meeting and guided tour of the town. At the beginning of the afternoon you'll take an oral and written French test so that you can be assigned to a class that suits your level.
Course structure
Morning classes
The lessons will teach you general written and spoken French in an informal and friendly environment.
You'll acquire the necessary grammar for each level and you will have the opportunity to work on your written and spoken language skills. The lessons also focus on written and oral comprehension which will involve students helping each other, (with tutor support). Use is also made of roles play methods with the aim of bringing the French you learn alive.
Afternoon classes
In the afternoon, the classes aims to develop students' oral comprehension and expression and give an insight into French culture and civilisation. Afternoon classes have a maximum of six students which ensures really good participation among all class members
These classes give real impetus to help you develop your practical French for everyday life. The classes include some role play as well as helping you develop 'automatic reflexes' when asked questions in French as well as helping you to improve your pronunciation skills.
Teaching methodology
Our partner school in Antibes on the Cote d' Azur uses various innovative teaching materials to help ensure that classes are interesting and stimulating including the use of cartoons, articles, videos etc. The teaching manuals and teaching materials that you use during your stay have been tailor made by the school's teaching department.
Social programme
Part of the fun of learning French is being able to get under the skin of the wonderful Gallic culture. It not only helps you really enjoy your stay but more importantly it is a brilliant way of helping you rapidly improve your French almost without you knowing it.
Each week the school arranges excursions and activities for students to enjoy and take part in and there is a Programme Notice posted in the students' common room.
Excursions to places like Grasse, the world centre for perfume or St Tropez and Monte Carlo home to the rich, glamorous, and famous are on offer as well as a host of other great places.
The school also offers a range of activities from Petanque to wine tasting to visits to local museums. All of which help you to discover the region and its attractions and wonderful culture.
Note: Some activities are complimentary while for others there is a small charge.
Book a place
or
Ask a question
Accredited by these organisations
:
ICEF
,
English UK