Intensive French
Our partner school in Paris offers intensive weekly courses, available for all levels, which focus on the four key language skills (speaking, listening, reading and writing).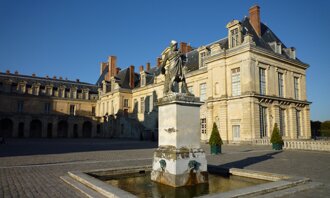 Our price promise
If you find this course cheaper elsewhere, we will match the price and give you a £50 voucher when you book*.
*Applies only to like-for-like dates at the same school on the same course for the same duration.
Study
Minimum entry requirements
Course format
Length of study

:

From 1 week

Lessons per week

:

26

Maximum class size

:

12

Typical student age

:

19 - 54

Typical student mix

:

24% European, 27% Asian, 18% South American, 19% Middle Eastern, 12% Far Eastern
Dates and fees
Course starts each

Mon

Tuition fees

:

From

635.00

EUR

Tuition length options

1 week

:

635.00

EUR

2 weeks

:

1270.00

EUR

3 weeks

:

1905.00

EUR

4 weeks

:

2480.00

EUR

5 weeks

:

3100.00

EUR

6 weeks

:

3720.00

EUR

7 weeks

:

4340.00

EUR

8 weeks

:

4960.00

EUR

9 weeks

:

5580.00

EUR

10 weeks

:

6200.00

EUR

11 weeks

:

6820.00

EUR

12 weeks

:

7200.00

EUR

13 weeks

:

7800.00

EUR

14 weeks

:

8400.00

EUR

Compulsory fees

Our admin fee

:

49

EUR

Enrolment fee

:

80.00

EUR

Other expenses

:
Course Overview
Choose your own pace of learning to suit your objectives and sign up for how many weeks you want. Weekly courses allow you to learn freely, according to your requirements and your availability!
You are actively encouraged to personalise your course by making use of the in-depth linguistics and cultural modules.
Intensive French
The intensive French course is made up of twenty general French core lessons plus three 2 lesson themed modules each week. The twenty general french lessons account for 15 hours of language teaching spread over the week.
On average 3 hours per day. The focus in these lessons is very much on the the four key language skills of speaking, listening, reading and writing).
Specialised Modules and Workshops
These workshops allow you to progress faster, to improve a particular language skill and enrich your knowledge of French culture
There is a choice of linguistic modules to choose from to help you further improve those parts of your French that you feel need an extra boost.
The modules last 1.5 hours each, divided into two 45 minute lessons. You can choose three modules each week. There is also a French cultural workshop module which aims to give you a more in depth insight into France and its great cultural diversity.
Modules
Reading and Writing
Improve your reading and writing (press, literature, etc.) and develop your skills broadening your vocabulary and grammar.
Listening and Speaking
Improve your oral comprehension and communication skills to be more at ease in your daily interactions (broaden your vocabulary; improve your grammar and your pronunciation).
Linguistics
Strengthen specific language and communicative skills (grammar, vocabulary, spelling, phonetics).
Language & Culture
Discover French civilisation and French literature through the analysis of current topics while practicing your language skills.
Book a place
or
Ask a question
Accredited by these organisations
:
ICEF
,
English UK