Premium Super Intensive Spanish
If you are sitting at your computer reading this masterpiece and wondering how much more you and your key employees could accomplish with a solid foundation in Spanish by studying in the historic city of Salamanca, Spain - wonder no longer; this is the course for you !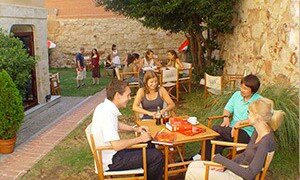 Our price promise
If you find this course cheaper elsewhere, we will match the price and give you a £50 voucher when you book*.
*Applies only to like-for-like dates at the same school on the same course for the same duration.
Study
Minimum entry requirements
Course format
Length of study

:

From 1 week

Lessons per week

:

30

Maximum class size

:

3

Typical student age

:

22 - 47

Typical student mix

:

66% European, 6% Far Eastern, 11% Middle Eastern, 17% North American
Dates and fees
Course starts each

Mon

Tuition fees

:

From

900.00

EUR

Tuition length options

1 week

:

900.00

EUR

2 weeks

:

1800.00

EUR

3 weeks

:

2650.00

EUR

4 weeks

:

3500.00

EUR

5 weeks

:

4350.00

EUR

6 weeks

:

4450.00

EUR

Compulsory fees

Our admin fee

:

49

EUR

Enrolment fee

:

65.00

EUR

Other expenses

:
Course overview
The Premium Spanish courses are designed for individuals and small groups who desire an accelerated or personalized intensive Spanish language course. The programme offers you the highest quality intensive Spanish course tailored to your individual needs, with don Quijote expert instructors and dedicated one-on-one teaching.
Your teacher will offer advice and assistance from beginning to end, analyzing your goals and creating a personalized programme of content, timetable, and complementary activities including company visits, cultural tours, and excursions.
Whether you plan to arrive alone or in a small group, we at gostudylink, in conjunction with don Quijote are available to prepare personalized content for you on a specific business topic, a technical area, or any other subject.
When you choose this Premium Super-intensive Spanish course; five of your weekly One to One hours will be made up by a daily conversational lunch with your teacher, designed to develop your comfort in social business settings. Your lunch is included in the course price.
What is included?
Lunch with your teacher
Pre-exam and written consultation with instructor before arrival, to plan your course
Twenty group lessons plus ten one to one lessons
2 weeks prior to your arrival 2-hour tutorial by phone or e-mail after your course
24-hour emergency number
WI-FI or ADSL in all classrooms
Daily cultural classes
Leisure programme
The school runs an excellent leisure programme , (at extra cost), that will help you get more out of the Spanish intensive course by getting under the skin of the wonderful and varied culture of Spain.
Book a place
or
Ask a question
Accredited by these organisations
:
ICEF
,
English UK