Real Madrid Soccer Coaching with Spanish or English
Develop your soccer and Spanish skills with the world-famous Real Madrid Soccer Schools Coaching programme and gain an insight into the techniques and training methods of Champions.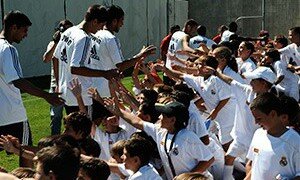 Our price promise
If you find this course cheaper elsewhere, we will match the price and give you a £50 voucher when you book*.
*Applies only to like-for-like dates at the same school on the same course for the same duration.
Study
Minimum entry requirements
Course format
Length of study

:

2 weeks

Lessons per week

:

15

Maximum class size

:

15

Typical student age

:

12-17

Typical student mix

:

70% European, 30% Middle Eastern
Dates and fees
Start dates

:

18 Jun 2017
2 Jul 2017
16 Jul 2017
30 Jul 2017

Tuition fees

:

2290.00

EUR

Compulsory fees

Other expenses

:
Why choose this course?
Soccer training from Real Madrid's accredited coaching team
Visit Real Madrid's Bernabeu stadium
Excellent language teaching choose Spanish or English
Real Campus environment
Soccer training at Real Madrid's own training ground
Campus accommodation
Programme Overview
Students can choose to do the soccer programme and combine the soccer element with either an English or Spanish language course.
Spanish or English lessons - you choose
The Language tuition uses a fun, participative approach to learning and emphasises spoken language skills.
The programme is specifically designed for boys and girls with an interest in soccer and includes a range of role-plays, pair-work and activities.
Students receive 15 lessons of English or Spanish lessons per week, taught by qualified teachers in classes of a maximum size of 15 students. Students are tested on arrival, and placed in classes with other students of approximately the same level and ability.
Real Madrid Soccer coaching programme
This programme is unique in providing in-depth training covering technical skills, tactical appreciation, psychology and physical training techniques. The Coaching programme is delivered by trained, qualified coaches using the Fundación Real Madrid Campus Experience model. It takes place at Real Madrid's world-class City Sport, Madrid training facility.
Enjoyable coaching sessions
As you would expect, the soccer coaching sessions are fun as well as educational. Through soccer, and a varied programme of fun and innovative educational activities, participants will also learn Real Madrid CF values, such as leadership, fellowship, tolerance and participation. During the stay in each weekly session, the children will be trained by highly skilled professionals both in the sport and the educational aspects.
Campus experience
Foundation Real Madrid Campus Experience residential programme is aimed at boys and girls from 12 to 17 years old and emphasises the development of tactical and technical soccer training, as well as the intercultural exchange with participants from other countries. This really is a fantastic, once in a life time opportunity, to immerse yourself in your chosen language and play soccer at the home of champions.
This outstanding programme is open to groups and individuals. Safety and security is of primary importance and there is a dedicated team to care for the children on and off the field.
Real Madrid Soccer School with Spanish or English
Day →
Sun
Mon
Tue
Wed
Thu
Fri
Sat
Note: 1. This is a sample programme only which is subject to change. 2. All soccer training takes place at Real Madrid's world class City Sport soccer training facility in Madrid
08:00 to 09:00
Breakfast
Morning sessions: 09

:00 to 12:15

Arrivals and settling in
Language testing and lesson 1
Lesson 2
Lesson 3
Lesson 4
Lesson 5
Full day excursion
12:30 to 13:30
Lunch
Afternoon sessions: 14

:00 to 17:00

Arrivals and settling in
Soccer coaching
Soccer coaching
Real Madrid stadium visit and tour
Soccer coaching
Socc​er coaching
Walking tour and sight seeing
18:30 to 19:30
Dinner
Evening activities: 19

:30 to 22:30

Welcome activity
BBQ
Talent contest
Quiz night
Movie evening
Disco
Evening activity
Real Madrid – special memories
Students receive a Real Madrid FC Foundation training kit as a welcome gift. The training kit includes one shirt, one short, one cap, photo, and a participation diploma.
Book a place
or
Ask a question
Accredited by these organisations
:
ICEF
,
English UK