Semester Academic Year Course in Spanish
This Spanish course, in Valencia, Spain, gives you the opportunity to learn and improve your Spanish whilst at the same time gaining credits for entry to a Spanish University. By the end of the programme you will be able to speak Spanish comfortably and fluently as well as possess an in-depth understanding of Spanish culture.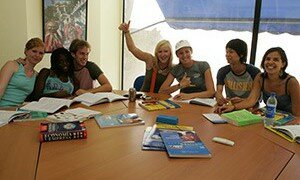 Our price promise
If you find this course cheaper elsewhere, we will match the price and give you a £50 voucher when you book*.
*Applies only to like-for-like dates at the same school on the same course for the same duration.
Study
Minimum entry requirements
Course format
Length of study

:

From 4 weeks

Lessons per week

:

25

Maximum class size

:

10

Typical student age

:

17 - 27

Typical student mix

:

66% European, 6% Far Eastern, 11% Middle Eastern, 17% North American
Dates and fees
Start dates

:

5 May 2014
2 Jun 2014
30 Jun 2014
28 Jul 2014
1 Sep 2014

Tuition fees

:

From

850.00

EUR

Tuition length options

4 weeks

:

850.00

EUR

(3 Credits)

8 weeks

:

1590.00

EUR

(6 Credits)

15 weeks

:

3300.00

EUR

(12 Credits)

32 weeks

:

5900.00

EUR

(24 Credits)

Compulsory fees

Our admin fee

:

49

EUR

Enrolment fee

:

55.00

EUR

Other expenses

:
Course overview
Class sizes are always limited to ten students per class.
Courses are divided into grammar and conversation. First you will study the basic language skills individually - reading, writing, speaking and listening - and the idea is to then work to integrate all four disciplines.
Foundation module
The foundation module allows students who want to pursue a higher degree or or a career in Spanish to develop the necessary skills. It will allow you to complete a regular university degree or postgraduate studies, (MBA, Doctorate, Masters, etc) in Spanish.
This course can also prepare teenagers to attend a Spanish High school side by side their Spanish peers.
University credit subjects
Spanish language - 3 credits
Spanish Civilisation and Culture - 3 credits
Art, Architecture and Civilisation - 3 credits
The History and Politics of the Mediterranean - 3 credits
Contemporary Spanish Literature - 3 credits
Spain's Political and Historical Relationship to Latin America - 3 credits
International Business - 3 credits
International Marketing - 3 credits
Marketing - 3 credits
Note: Some subjects are taught in English. Courses subject to change / amendment without notice
Leisure activities
The school offer some great leisure activities to complement your language learning. Some of these are for an extra charge , some are complimentary.
On the first day of class you will receive a folder that includes the dates and prices, if any, of the months cultural activities and excursions. It is a really great way to get under the skin of Spanish culture and also make new friends in the process.
Book a place
or
Ask a question
Accredited by these organisations
:
ICEF
,
English UK