Spanish with Hispanic Studies
This Spanish with Hispanic Studies course, in Malaga, Spain is an excellent programme which combines Spanish from beginner to advanced levels, with an overview of Spanish cultural heritage and way of life. It is ideal for gap year students or anyone else who wants to have 'fluent in Spanish' as a career enhancing qualification.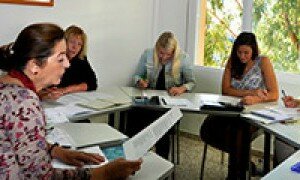 Our price promise
If you find this course cheaper elsewhere, we will match the price and give you a £50 voucher when you book*.
*Applies only to like-for-like dates at the same school on the same course for the same duration.
Study
Minimum entry requirements
Course format
Length of study

:

From 4 weeks

Lessons per week

:

20

Hours per week

:

20

Maximum class size

:

15

Typical student age

:

18-35

Typical student mix

:

71% European, 14% Far Eastern, 5% Middle Eastern, 10% North American
Dates and fees
Start dates

:

5 Jan 2015
31 Aug 2015
4 Jan 2016

Tuition fees

:

From

757.00

EUR

Tuition length options

4 weeks

:

757.00

EUR

16 weeks

:

2594.00

EUR

20 weeks

:

3118.00

EUR

36 weeks

:

5214.00

EUR

Compulsory fees

Our admin fee

:

49

EUR

Enrolment fee

:

70.00

EUR

Other expenses

:
Course overview
This excellent course has been designed for students who want to not only attain a high level of Spanish but also want to study the history, culture and way of life of the Andalucians and Spaniards in general.
This is an ideal Gap Year programme and you can study from 4 to 37 weeks.
The course is divided into two terms (Term I: September – December, Term II: January – May) which may be taken separately or combined depending on your language level and/or time available.
Course highlights - k
ey elements
General Spanish
Spanish history
Literature
Art
Cinema
Spanish way of life
Media
Social and political institutions
Excursions and activities
The school passionately believes that all these things help bring your Spanish alive. So do we ! We urge you to take the opportunity while you are in Malaga to learn more about Spain, see the countryside of Andalucía, eat Spanish food, meet Spanish people and visit the great cities. The schools dedicated excursions team help you to do all this and more! The school organises visits to:
Cordoba
Granada
Sevilla
Ronda
White-washed villages like Nerja and Frigiliana.
You can also go to Africa for the weekend and you will be able to see first hand a little of the modern-day Moroccan culture that in the past had such an influence in forming the traditions, way of life and architectural heritage that we see in Andalucía and Málaga today.
The school offers a great range of other activities as well including:
Learning to cook real paella,
Preparing a perfect Gazpacho, and understanding how to make the best Tortilla in Malaga
Walking in the mountains
Learning to dance the Sevillanas
Enjoying the sounds of the wonderful musicians and dancers that are regular visitors to the school for "fiestas"
Note: Some activities are free; for others there is a small charge
Academic year
Term 1
Beginning towards the end of August early September you follow the Intensive Course of General Spanish until the end of December. You can start this course as a total beginner.
Term 2
This begins in January each year and combines advanced Spanish with the study of aspects of Spanish history and culture. The level of the teaching of the cultural content is pre-university.
Term 2 is divided up into five 4-week units so that students who have the level of Spanish required can take the entire Term or just a 4-week unit or combine consecutive units. The content of the modules of Term 2 is as follows:
January - 4 weeks
Hispanic 1: Advanced Spanish + Spanish Cinema and the Media
February - 4 weeks
Hispanic 2: Advanced Spanish + Social, Political Institutions and the Economy
March - 4 weeks
Hispanic 3: Advanced Spanish + Geography, History 1 & History of Art 1
April - 4 weeks
Hispanic 4: Advanced Spanish + Spanish Way of life, History II, Literature I
May - 4 weeks
Hispanic 5: Advanced Spanish + History III, History of Art II, Literature II
Social programme
Make the most of your time in Malaga by choosing from the great range of the activities and excursions on offer from the school.
Sports
The school provides you with all the information that you need to make the most of Málaga's excellent sports and social facilities. There is a huge range on offer:
Fitness training at the school's gym
Tennis on the courts by the beach
Hiking
Golf and one of a number of nearby courses
Jogging trails
Aerobics classes in the dance studio
Book a place
or
Ask a question
Accredited by these organisations
:
ICEF
,
English UK