Travel and Culture with English Lessons
The big benefit of this English course, in San Francisco, is that you can enter the USA on a tourist visa or (if your country is eligible) the visa waiver programme. There is no need to go through the student visa application process.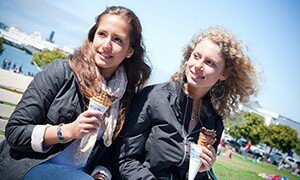 Our price promise
If you find this course cheaper elsewhere, we will match the price and give you a £50 voucher when you book*.
*Applies only to like-for-like dates at the same school on the same course for the same duration.
Study
Minimum entry requirements
Course format
Length of study

:

From 2 weeks

Lessons per week

:

16

Maximum class size

:

15

Typical student age

:

17-35

Typical student mix

:

21% Asian, 19% Latin American, 12% Japanese, 22% European, 26% Middle Eastern,
Dates and fees
Course starts each

Mon, excluding weeks that include Christmas, New Year

Tuition fees

:

From

674.00

USD

Tuition length options

2 weeks

:

674.00

USD

3 weeks

:

1011.00

USD

4 weeks

:

1348.00

USD

5 weeks

:

1685.00

USD

6 weeks

:

2022.00

USD

7 weeks

:

2275.00

USD

8 weeks

:

2600.00

USD

9 weeks

:

2925.00

USD

10 weeks

:

3250.00

USD

11 weeks

:

3575.00

USD

12 weeks

:

3840.00

USD

Compulsory fees

Our admin fee

:

49

USD

Enrolment fee

:

150.00

USD

Other expenses

:
Why choose the English with Travel and Culture course ?
No need to apply for a Student Visa - you can apply for this great value course with a Tourist Visa or under the VISA waiver programme
A great balance between study and travel
Practical English to use straight away
16 focussed English lessons, Monday to Thursday
Long weekends to explore - Friday lessons are optional
Easy VISA application process
Incredible value – save money for trips and activities!
Use everything you learn in class as you discover some of the most exciting destinations in the USA!
Course overview
If you want to combine your English studies with some sight-seeing in the USA, the Travel and Culture course, offered by our partner school in San Francisco, is the ideal programme for you.
Join the school's core Certificate of English classes for just 16 x50 minute classes a week, Monday to Thursday. With an optional Friday class, the rest of the time is your own. So, whether you prefer to go shopping, see all the local sights, or even take off for long weekends, you can do it all.
Teaching method
All lessons are taught the Embassy way, with full in-class participation, group work, pair work, and class discussions. Bear in mind that exam classes also necessitate a certain amount of solo work and mock examinations. Students are expected to be dedicated and to work to the best of their abilities.
You can be confident that Embassy's professional, qualified teachers will respond to the needs of the class, using an assortment of learning materials and techniques. You'll be expected to complete daily homework assignments and sample tests.
Technology in the classroom
You will have access to the modern technologies on offer to help your language learning experience. These include interactive whiteboards and captivating online learning environments. It is all part of bringing your language learning experience alive and ensures that your learning experience will be a positive one.
All text books and materials are provided on this course. You may wish to purchase additional supporting books, although they are not essential.
Not sure what your English level is? Get an idea by taking this online test.
Book a place
or
Ask a question
Accredited by these organisations
:
ICEF
,
English UK