English for the Petrochemical Industry
A tailor made English course, in Exeter, England, for people working in the petrochemical and energy sectors. It is a highly popular course and is run by one of the UK's premier corporate training organisations with many years of experience of teaching English to the energy sector.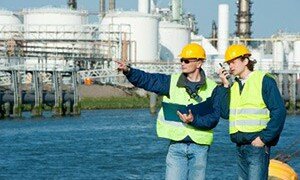 Our price promise
If you find this course cheaper elsewhere, we will match the price and give you a £50 voucher when you book*.
*Applies only to like-for-like dates at the same school on the same course for the same duration.
Study
Minimum entry requirements
Course format
Length of study

:

From 1 week

Hours per week

:

30

Maximum class size

:

12

Typical student age

:

18-55

Typical student mix

:

27% European, 45% Far Eastern, 28% Middle Eastern
Dates and fees
Course starts each

Mon

Tuition fees

:

From

795.00

GBP

Tuition length options

1 week

:

795.00

GBP

2 weeks

:

1395.00

GBP

Compulsory fees

Our admin fee

:

49

GBP

Enrolment fee

:

70.00

GBP

Other expenses

:
Course overview
The aim of this programme is to give people who work in the energy sector complete immersion in English and English relevant to their sector and sphere of expertise.
Course Structure
The programme comprises the following elements:
Placement Test

Tuition (30 hrs per week)

Social/Cultural programme
Quality control

Certification Course components
Gen
eral En
glish module
In the mornings students join the General English classes. Classes focus on improving general English competence. This will develop grammar, vocabulary, reading, writing, speaking, listening and pronunciation.
The classes are held at the school's adult training centre in Exeter, England. Students have the opportunity to interact with students from other countries, offering opportunities for less formal language practice, as well as classroom based instruction.
Specialist language module
The module comprises a number of agreed elements covering a wide range of aspects of the energy industry. Course content can be negotiated depending on your company's specific requirements.
Qualified experienced language teachers will deliver a comprehensive commercial programme. This industry specific component will include work on vocabulary and terminology applicable to the energy sector.
Needs analysis
Need analysis will take place through the following methods:
To ensure that you get the best out of the programme we will sit down with your company to agree your specific needs, programme objectives and obligatory components.
A written test will be requested for each trainee, and a telephone interview will take place, if possible. On arrival trainees will be tested and interviewed again on their first day.
There is continuous analysis and monitoring of progress and this is carried out through weekly tutorials with the class teacher and meetings as required with the Director of Studies and/or the Principal.
For the morning classes, trainees will be placed in General English levels according to their test results. These levels will be reviewed on a weekly basis by the trainees' tutors.
Social programme
The school offers an exciting social programme with weekend excursions to places of interest including Bath, Stonehenge, Bristol, the coast and the beautiful National Parks of Dartmoor and Exmoor.
Activities during the week include international food evenings, bowling, cinema etc. The average cost of excursions is £30. There may be a charge for other activities.
London weekends
Spend the weekend in London – You can be in London in just 2.5 hours. Leave Exeter on Friday afternoon and return Sunday evening. The school will help with travel and accommodation in London.
English for the Energy Sector - Timetable
Day →
Sun
Mon
Tue
Wed
Thu
Fri
Sat
Note: 1. This is a sample tailor made programme. 2. Contact enquiries@gostudlink.net for your specific needs.
08:00 to 09:00
Breakfast
Morning sessions: 09

:30 to 13:00

Arrival and settling in
Language test and placement
Quiz - How well organised are you?Reading and vocabulary development and discussion
Use of modal verbs to express certainty and uncertainty and discussion of probabilities
Extended role play with practice of modal verbs for speculation
Travel writing - reading, comprehension and activation of past perfect and past continuous
Free time or optional activity
Video - listening and comprehension
Geography and location of travel destinations. Listening, comprehension, and group discussion
Self study and individual tutorials
'Wish you were here!' Postcard writing, vocabulary development, listening and speaking
Vocabulary and grammar review and test
Letter writing
Three different professions
Listening for gist and detail. Grammar development
Speaking and spelling - dictation
Descriptive writing
13:00 to 14:00
Lunch
Afternoon sessions: 14

:00 to 17:15

Arrival and settling in
Using formal and informal technical expressions
Talk about oil / gas exploration and recovery. Discussion
Read about mud circulation systems
To read and listen for detailed information about filters and strainers
To talk about hazards using active and passive modal verbs
Free time or optional activity
Vocabulary and understanding - parts of an oil well
Vocabulary - words related to oil / gas recovery and exploration
Vocabulary - words related to mud circulation systems
Vocabulary - Words related to filters and strainers
Vocabulary - Words related to hazards and rules
19:00 to 20:00
Dinner
Evening activities: 20

:15 to 22:30

Free time
Free time or agreed activity
Free time or agreed activity
Free time or agreed activity
Free time or agreed activity
Free time or agreed activity
Free time or optional agreed activity
Morning classes - General English
The General English course will follow a course book with a comprehensive grammar and vocabulary syllabus and which incorporates systematic work on listening, speaking, reading and is suitable for people who wish to improve their English in everyday situations.
Language is practised actively through personalisation and pair-work.
Speaking and pronunciation include real life tasks, dialogues, discussions, asking and answering questions, talking about self and likes and dislikes and conversational skills for effective communication.
Using appropriate formality in both face-to-face and on the telephone
Listening to public announcements and dialogues, some note-taking exercises.
A wide range of reading texts both short extracts and more extensive ones for general comprehension, including signs, brochures and magazine articles.
A variety of writing texts including more controlled and freer exercises with some adaptation to the intended audience; short communicative messages, informal letters and stories focusing on structure, vocabulary, spelling and punctuation.
Afternoon classes for the energy industry.
These can follow the content on the timetable and / or can be tailored to your organisation's specific needs.
Book a place
or
Ask a question
Accredited by these organisations
:
ICEF
,
English UK