Oxford, UK
We think that Oxford is the ideal place to come and study English. It has a worldwide reputation for learning and Oxford university is consistently ranked in the top five global universities.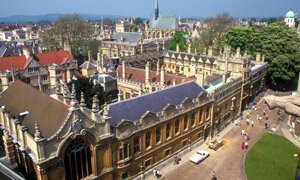 Students will be able to enjoy the best that Oxford has to offer with shops, cafes, bars, restaurants and some of Oxford's most historic buildings right on the doorstep.
Oxford also offers a range of museums, galleries, cinemas, theatres and beautiful parks where you can enjoy a summer picnic and punting along the river.
As the home of the oldest university in the English-speaking world, Oxford is a unique and historic city. It is not clear when Oxford first became a centre of learning but teaching existed at Oxford in some form as far back as 1096 and developed rapidly from 1167, when Henry II banned English students from attending the University of Paris.
Can there really be a better place to study English ? We think that the combination of the excellent facilities that the town has to offer combined with the university being a truly historic seat of learning, ensures that it is really very hard to beat Oxford as a place to come and study. What are you waiting for ?!
Accredited by these organisations
:
ICEF
,
English UK