Salamanca, Spain
Not much more than an hour away by train from Madrid, you will find the beautiful city of Salamanca. Salamanca is known as Spain's "Golden City," and is home to the world's 5th oldest university and a wealth of historical buildings.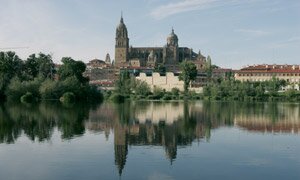 Living in Salamanca is like being transported to another era. The entire city centre is adorned with golden, historic buildings dating as far back as the 13th century. Some nine hundred years later, Salamanca is still renowned as a centre for learning and academia. It is still regarded by many as the most distinguished university town on the entire Iberian peninsula.
In many respects the whole of Salamanca revolves around the student population. It is hardly surprising therefore that it is renowned for its lively nightlife and high concentration of bars and clubs. In short, if living in a university town, partaking in a vibrant night life, and enjoying the amazing history of one Spain's key centres of learning appeals to you, then we think that you will love learning Spanish here.
Enforex Salamanca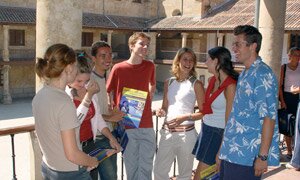 The Salamanca school is located right in the heart of the city, about five minutes from the Plaza Mayor, Salamanca's main square and the historical centre. Built by the Churriguera brothers, the Plaza Mayor, with the Casa Consistorial (Town Hall), is one of the emblematic buildings in the city and is an excellent example…
Enfocamp, Salamanca
This impressive school is situated in the old quarter of Salamanca. It is one of our favourites. The school building is laid out around a majestic courtyard that is visible from any of the centres large, interior glass windows.
don Quijote, Salamanca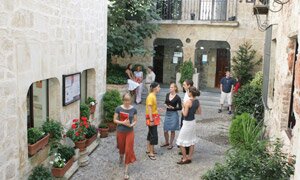 We think our partner school in Salamanca has that extra little bit of style and class and va va voom! The school guarantees small class sizes -never more than eight students in a class. This gives students the perfect platform to get down and serious with their Spanish learning from the moment they walk through the door.
Accredited by these organisations
:
ICEF
,
English UK