Toronto, Canada
Friendly people, trendy city, everything within easy reach, brilliant baseball stadium, great places to eat and chill out.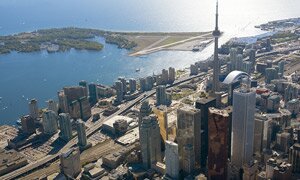 Toronto really is a cool place with great people, a truly amazing baseball team and of course fantastic night life. It has great shops and a wonderful marina area and a whole host of other great places including the iconic CN tower where you can have dinner and enjoy the spectacular views. Toronto bursts with energy and zings and buzzes with life. Canada Travel, http://uk.canada.travel/, the official Canadian Tourism website, picks up the story:
"For Toronto's best beaches, boardwalks, parks and people-watching, head to the Beaches, the city's popular lakefront neighbourhood. Streets are lined with sidewalk cafés, trendy restaurants and pubs where you can rub shoulders with everyone from bohemian artists to financiers. In summer, you can paddle and swim at Woodbine, Kew and Balmy, the sandy beaches of Lake Ontario. In winter, skate at Kew Gardens, stroll the boardwalks to see ice formations sparkle on the shoreline, then warm up with a hot toddy inside a cosy bistro."
How could you not want to come and learn English here?
Embassy Toronto
Our partner school in Toronto is located in the heart of the fashionable downtown neighbourhood of Yorkville. You'll step out of school and right into a fabulous shopping area with many friendly cafes.
Accredited by these organisations
:
ICEF
,
English UK