don Quijote, Madrid
The don Quijote school in Madrid, like all don Quijote schools, has that extra little bit of style and class. An integral part of the don Quijote promise is to guarantee small class sizes -never more than eight students in a class- gives students the perfect platform to get down and serious with their Spanish learning from the moment they walk through the door.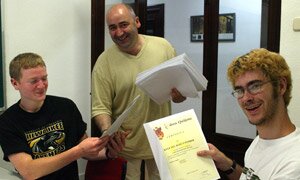 Our price promise
If you find a course at this school cheaper elsewhere, we will match the price and give you a £50 voucher when you book*.
*Applies only to like-for-like dates at the same school on the same course for the same duration.
The Madrid school facilities are housed in the lower three floors of a historic building. When the building was renovated it was constructed in such a way that ensures that it can provide the most modern amenities whilst still retaining the charm of its typical Madrileño architecture.
The don Quijote Madrid school is a fully equipped academic centre, housed in a vintage building. It combines all the facilities of a modern school with the grace and charm of its historic architecture. In our opinion it is a really great school that is both functional and comfortable, in an excellent location in Madrid. What more do you want?!
Why choose this school?
Centre of Madrid
38 fully equipped classrooms
6 washrooms, including one specially equipped for disabled students
Year-round comfort: centralised heating and air conditioning throughout the building
Wi-Fi access from all points of the building
A computer room with stations for 20 people at a time
Facilities fully adapted for disabled students and visitors
A snack area, security cameras and loudspeakers throughout the school
Two conference rooms accommodating 100 and 70 guests, respectively
Fully equipped study zone with study area and library, TV, stereo, and DVD
Social programme
The school's philosophy is that leisure activities are both an integral part of, as well as complementary to, the classroom study experience.
In order to help achieve this, don Quijote offer several courses both theoretical and practical which are combined with other complementary cultural activities such as the cinema and theatre.
There are also workshops on important aspects of communication (gestures, writing and speaking), together with more esoteric learning experiences such as wine tasting and flamenco dancing.
All these things will help you gain a more in-depth understanding of the culture and customs of Spain. Other activities such as singing classes are an interesting and fun addition to your Spanish course and your overall learning experience.
Excursions
To enable you to discover other places in Spain, the school organizes half-day, full day or weekend trips on Saturdays and/or Sundays. You will also have the opportunity to engage in 'intercambios' or exchanges with native speakers outside the classroom. Sometimes you will speak in Spanish with your native speakers and other times in your mother tongue.



Accredited by these organisations
:
ICEF
,
English UK