don Quijote, Valencia
Located close to the centre of Valencia, in the education zone, you will have the opportunity to learn Spanish in small classes and experience the great city of Valencia with its ultra modern architecture that blends in with the old city and the harbour area.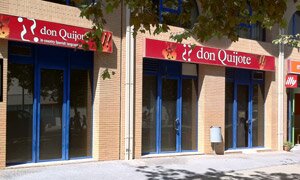 Our price promise
If you find a course at this school cheaper elsewhere, we will match the price and give you a £50 voucher when you book*.
*Applies only to like-for-like dates at the same school on the same course for the same duration.
Our partner school in Valencia has that extra little bit of style and class. An integral part of the don Quijote promise is to guarantee small class sizes -never more than eight students in a class. This gives students the perfect platform to get down and serious with their Spanish learning from the moment they walk through the door.
The don Quijote school in Valencia is a wonderful modern academic centre that offers excellent facilities in a comfortable and pleasant environment - ideal for your Spanish studies. It is a centre offering you a unique opportunity to study and live on a Spanish university campus while offering the opportunity to explore the vibrant city of Valencia just a ten minute bus ride from the school.
Why choose this school/
Close to the centre of Valencia as well as some excellent beaches
14 fully equipped classrooms
Centralized heating and air conditioning throughout the building
Wi-Fi access from all points of the building
A computer room with stations for 10 students
Facilities fully accessible to disabled students and visitors
Fully equipped common area with study area, library, TV, stereo, DVD
Social programme
The school's philosophy is that leisure activities are both an integral part of, as well as complementary to, the classroom study experience.
The school offers several courses both theoretical and practical which are combined with other complementary cultural activities such as the cinema and theatre. There are also workshops on important aspects of communication (gestures, writing and speaking), together with more esoteric learning experiences such as wine tasting and flamenco dancing.
All these things will help you gain a more in-depth understanding of the culture and customs of Spain. Other activities such as singing classes are an interesting and fun addition to your Spanish course and your overall learning experience. Note: There is a small charge for some after class activities
Excursions
To enable you to discover other places in Spain, the school organizes half-day, full day or weekend trips on Saturdays and/or Sundays. You will also have the opportunity to engage in 'intercambios' or exchanges with native speakers outside the classroom.
Accredited by these organisations
:
ICEF
,
English UK