Corpus Christi College, University of Cambridge - Summer School
Corpus Christi College is the 6th oldest college in Cambridge University, established in 1352, and is one of the most famous and beautiful colleges in the whole university.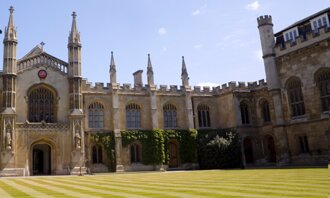 Our price promise
If you find a course at this school cheaper elsewhere, we will match the price and give you a £50 voucher when you book*.
*Applies only to like-for-like dates at the same school on the same course for the same duration.
Accommodation
All our students stay on the beautiful campus at Corpus Christi College
Student residence
Students stay in the central college bedrooms, and all classrooms are in the famous Old Court – the oldest college courtyard in Cambridge.
Travel arrangements and flights
Aside from transfer options within your country of study, we do not offer travel-inclusive programmes, but we can help you make the best travel arrangements to suit your needs, whether you are flying or travelling by rail.
Options for getting to Corpus Christi College, University of Cambridge - Summer School
Airport transfers from Heathrow, Gatwick and Stanstead are included in the price
Hold on, we are just redirecting you to a more complete page…
Accredited by these organisations
:
ICEF
,
English UK