IEF Montpellier
Our partner school IEF is situated in the heart of Montpellier's pedestrianised historic city centre with local access to all of the shops, museums, restaurants and amenities.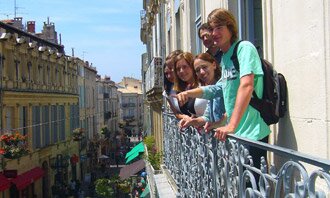 Our price promise
If you find a course at this school cheaper elsewhere, we will match the price and give you a £50 voucher when you book*.
*Applies only to like-for-like dates at the same school on the same course for the same duration.
The school offers a wide variety of French courses and is recognised for its excellent teaching team. So you can be confident that no matter what your linguistic needs that there is a programme for you. The school itself occupies a beautifully renovated 17th century building and features bright, airy classrooms and learning areas which provide a perfect study environment for our students.
Why choose this school ?
In the heart of Montpellier
Personal attention
Library with over 4000 reference materials
Unlimited Wifi
Bright airy classrooms
Small class sizes
Dedicated cultural events team
Highly regarded teachers
Social programme
On arrival the school offers all new students an informal information meeting together with a guided visit, and a "welcome aperitif". This is a great way for students to get to know each other and the staff.
There is a programme of cultural and specialty tours with professional guides, which is organised through the cultural events team who inform all students of upcoming events each week.
The school host innovative 'cultural conferences' to keep students stimulated and interested away from formal classroom settings. There are also very popular themed "soirées".
Excursions
The excursions programme is designed to give you the chance to sample as much of the region as you can while giving you the invaluable experience to put into practice all that you have learnt during your class time.
Montpellier and the surrounding region are rich with natural beauty, historical sites and 'typical' French villages. There are sights which quite simply will take your breath away. You can experience all the region has to offer by taking part in some of the school's excursions and cultural activities which are offered all year round.
The cultural events team work closely with the teaching staff when developing the schedule to ensure that your educational and social programmes are complimentary. The aim is to ensure that you have a fun, entertaining and authentically French experience.
Note: Some activities are free of charge. Other activities and excursions incur a small charge.
Accredited by these organisations
:
ICEF
,
English UK