Linguaviva
:
Florence
The Linguaviva school is in a great location, in the centre of Florence, in a quiet street in the centre of town.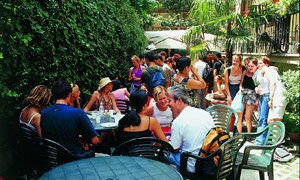 Our price promise
If you find a course at this school cheaper elsewhere, we will match the price and give you a £50 voucher when you book*.
*Applies only to like-for-like dates at the same school on the same course for the same duration.
The school is located in an elegant nineteenth century building. The class rooms are comfortable. The teaching makes use of both audio and video tools to help students develop their Italian language skills. There is a small garden to the rear of the school which is a popular place to have a good cup of Italian coffee between classes.
Why choose this school?
Florence is one of the most beautiful cities on the planet
The school is in the heart of Florence
Classrooms with audio-visual equipment
Students meeting room
Elegant 19th century building
High quality accommodation within walking distance of the school
Small garden
Air conditioning
Free internet access throughout the school
Coffee facilities
Social programme
Each month the school offers a varied programme of daily activities with you, the student, in mind. The social programme is run with a team of teachers and provides an opportunity to have fun, practice your Italian, meet other students and of course soak up the richness and variety of culture that Florence has to offer.
On the first day of school you will be given a detailed schedule that , if you wish, will ensure that every moment of every day is taken up with doing something. Many students love to pick and choose what to do. Some activities you will have to pay for, others are complimentary.
Excursions
The school offers a range of full day, paying excursions to some wonderful places like Verona and Venice and Pisa and Chianti and yes you can, as we did, taste the wine when you are there.
The beauty of staying in Florence is that you are completely spoilt for choice. When we were there we found it difficult to leave, and we keep going back. We really think you should come too! In fact, what are you waiting for??!
Accredited by these organisations
:
ICEF
,
English UK